Merry Christmas from all of us at TRiBECA® Knowledge 2019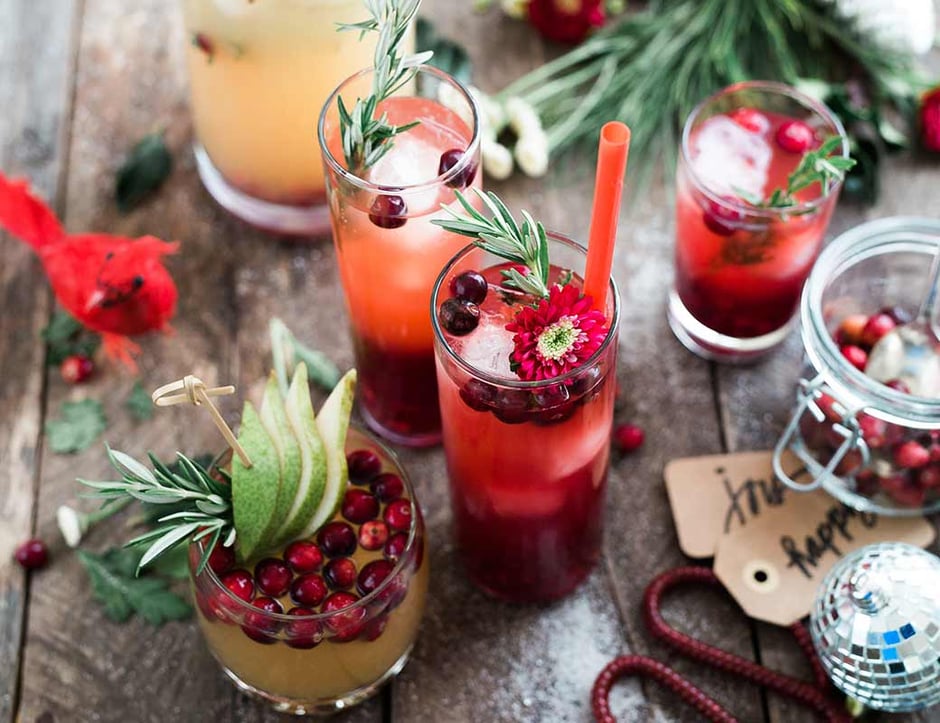 From everyone here at TRiBECA® Knowledge, we wish you a very Merry Christmas and a Happy New Year! This holiday season TRiBECA® Knowledge's international team would like to share some of our favourite Christmas food and drink recipes. We hope you try out a few and offer your Christmas table some new delights to make this holiday a bit different!
Tokyo Slipper
"Inspired by my recent travels to Japan" - Avel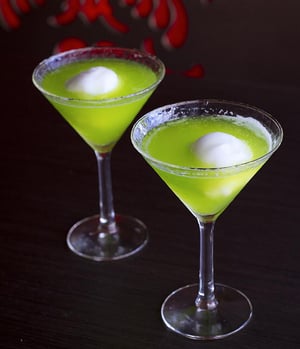 A perfect way to start any dining experience, this is Kobe Jones' take on the traditional Japanese Slipper. A tantalising mix of Midori, Yuzu-infused sake and pineapple juice, shaken and strained over yuzu sorbet.
Ingredients
30ml Midori

30ml Yuzu infused Sake (Yuzushu)

60ml Pineapple Juice

Shaken and strained over Yuzu Sorbet (house made)
Method
Add all the ingredients to a cocktail shaker with ice. Shake and strain into a large martini glass, over a scoop of Yuzu sorbet.
As good as real Irish Brown Bread
"I was brought up with homemade Irish brown soda bread piping hot out of the oven with fresh farm butter. So I was thrilled when my wife found this delicious, easy-to-make bread recipe that tastes just like the 'real deal' but is gluten free, dairy free, and sugar free." - Martin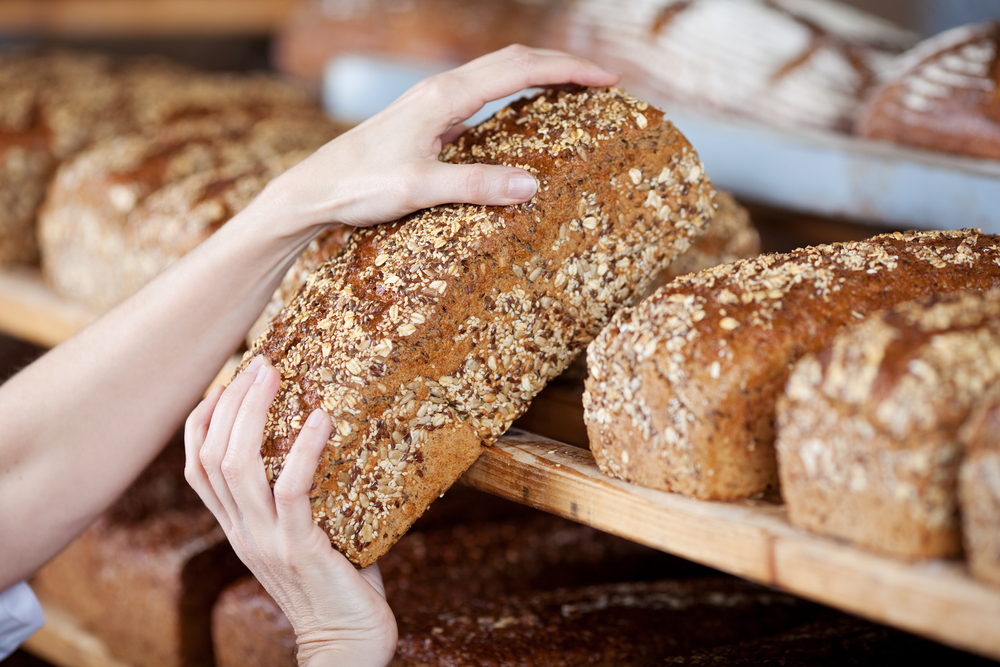 Dry Ingredients
3 cups ground almonds (also called white almond flour)
1.5 cups Arrowroot flour
0.5 cup ground flaxseed/pumpkin seed (can be mixed)
1 tsp Organic Bicarbonate of Soda
0.5 tsp Himalayan ground salt
Wet Ingredients
6 medium eggs
1 dessertspoon apple cider vinegar
1-2 tablespoons of olive oil can also be added
Method
Mix all dry ingredients together well.
Whisk egg and vinegar (and olive oil if used) and add to dry ingredients.
Line a 1 lb loaf tin with parchment paper and place mixture in tin.
Bake at 160 degrees for about 1 hour. Test to see whether cooked through. Skewer should be clean (dry).
Let it cool, then slice.
Freezes well.


Healthy option for breakfast, lunch or snacks, gluten free, sugar free dairy free!
"With Thanksgiving turkey dinners just recently consumed, Americans often have a Christmas brunch followed by a movie instead of a big turkey dinner again! And no American brunch is complete without pancakes! But you can hold the maple syrup and have a healthy option instead that is gluten free, dairy, free and sugar free. A perfect treat for Boxing Day leisure meals." - Sherry
Savoury Pancakes - recipe makes 12 three inch pancakes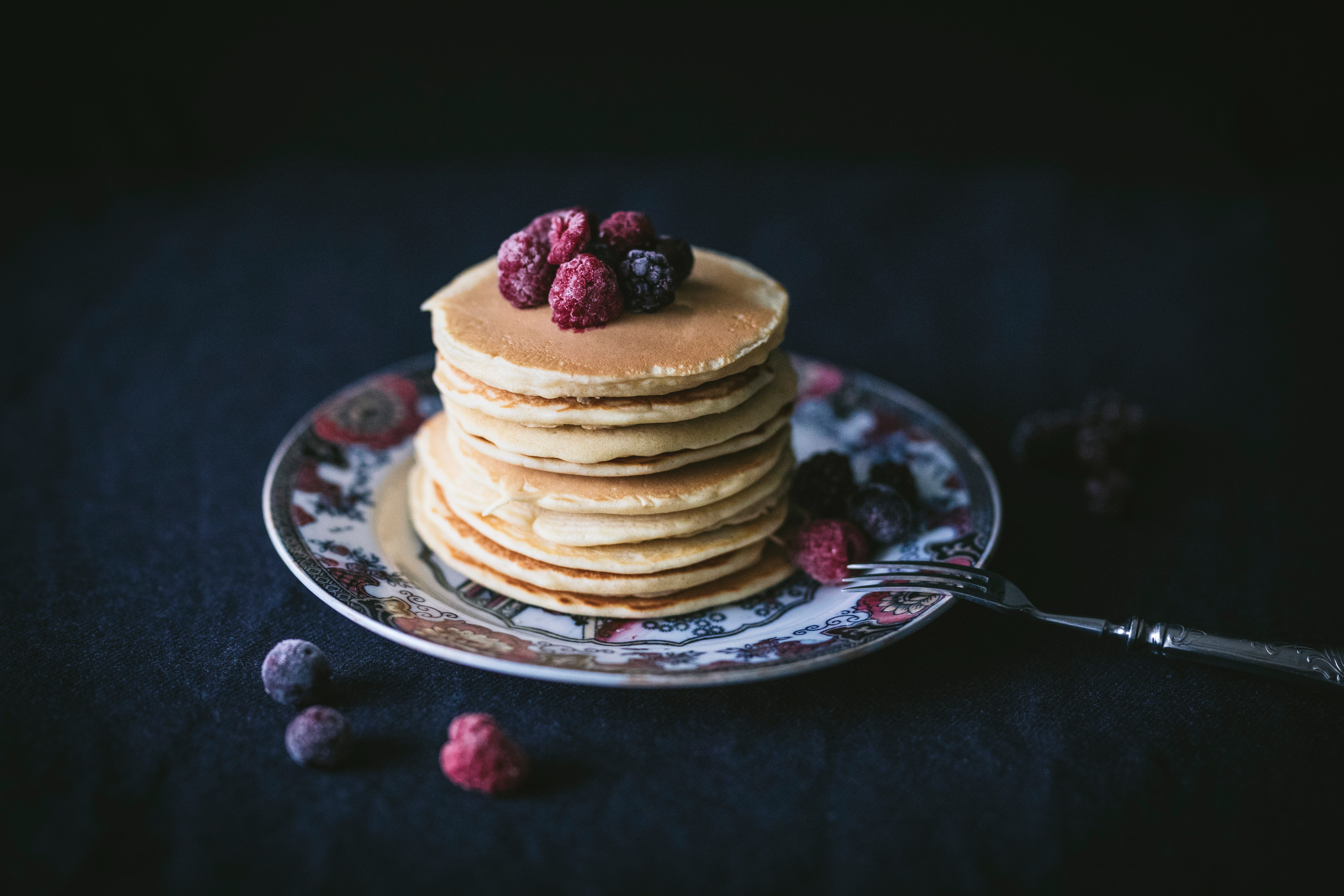 Ingredients
1 cup Chestnut flour
1 cup Arrowroot powder
½ tsp salt
½ tsp Bicarbonate of Soda (must be gluten free)
Two handfuls of spinach or kale (chopped in blender)
Almond or coconut milk (no additives, homemade almond milk is best)
Method
Mix all dry ingredients and spinach together. Add enough milk to make a pancake batter, or slightly runnier. Approximately 1 to 1.5 cups milk.
Heat a good pancake pan to medium heat – use coconut oil to smear and quickly add mixture (not too thick). Swirl around or use a spatula to spread out shape.
The mixture will take longer to cook than a normal pancake so turn heat down a bit. Flip and cook other side. On a normal pancake pan you can make 4-5 at a time.
When finished put in storage box with paper towels in between layers to absorb extra oil. Must be covered or they harden. Store in fridge. Pop into a toaster to heat before use.
Great with avocado mash, smoked salmon/trout or tapenade.
Little ones are nice with toppings above and drinks.
Gravlax: Beetroot and Herb Cured Salmon
"Gravlax is a Scandinavian favourite and has become my Christmas Eve dinner of choice. Traditionally, the raw salmon is cured in salt, sugar and dill for 3-4 days. My recipe, which evolves ever so slightly from year to year, introduces beetroot for colour and tarragon for flavour. Any leftovers from the Christmas dinner, makes for the perfect next day brunch." - André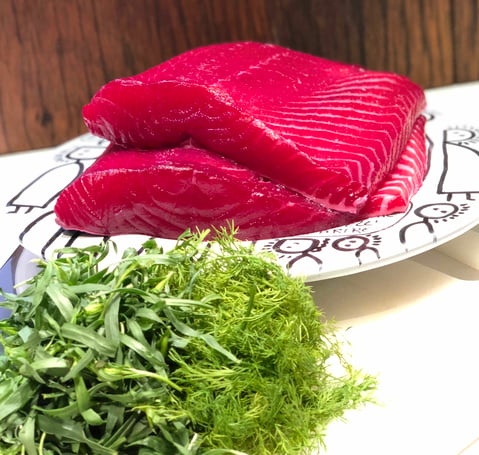 Beetroot Cure (24 hours)
2 large fresh beetroots , peeled and quartered

zest of 1 orange and 2 lemons

2 juniper berries , bashed

6 tablespoons rock salt

2 tablespoons demerara sugar

50 ml gin

800 g side of salmon



Blitz the beetroots, orange and lemon zest, and bashed juniper berries in a food processor until you get a fairly smooth paste. Transfer this to a bowl and stir in the rock salt and sugar. Pour in the gin and give it a good mix.
Cut the salmon in two equally sized pieces. Make a few cuts in the salmon skin so the marinade will penetrate from below.
Put a large sheet of cling film on a tray and pour ¼ of the beetroot cure over it. Please one of the salmon filets skin side down on the cling film and pour ½ of the beetroot cure over it so that it is covered. Please the other fillet skin side up on top of it and pour over the remaining ¼ of the cure. Finally, wrap cling film tightly around the fillets and place a heavy chopping board on top of the two salmon fillets.
Let the salmon marinate at room temperature for 4 hours. Then place it in the fridge for 20 hours. Make sure you flip the salmon fillets at least once after around 8 hours.
The next day, take the salmon out of the fridge and carefully unwrap it so you can rinse off the cure. Either use 100ml of cold water or gin. Hold the salmon over a baking tray and pour a splash at a time over your salmon. Use a spoon to gently push the beetroot cure off the fish. By now it should have shared its wonderful flavours with the fish and turned it a really vibrant colour.
Herb Cure (2-3 days)
1 small bunch fresh dill , finely chopped

1 small bunch fresh tarragon , leaves picked and finely chopped

100g coarse sea salt

75g sugar

2 tbsp crushed white peppercorns
Mix salt, sugar, pepper, dill and tarragon. Put a large sheet of cling film on a tray and sprinkle ¼ of the mixture on it. Place one of the salmon fillets skin side down on the cling film and sprinkle ½ of the mixture over it so that it is covered. Please the other fillet skin side up on top of it and sprinkle with the remaining ¼ of the mixture. Finally, wrap cling film tightly around the fillets and place a heavy chopping board on top of the two salmon fillets.
Refrigerate for 2-3 days. Make sure you flip the salmon fillets a few times, at least once a day, to make the marinade cover all the salmon.
Remove the salmon from the marinade, you may want to rinse it with 100ml water to get some salt off. Hold the salmon over a baking tray and pour a splash at a time over your salmon. Use a spoon to gently push the herb cure off the fish.Cut the salmon fillets into thin slices like you would do with smoked salmon.
Serve with rye bread, watercress (or lambs lettuce), horseradish crème fraîche, mustard sauce and a few lemon wedges.
Horseradish Crème Fraîche
Whisk together the double cream and crème fraîche (by hand, not machine). Add the horseradish, lemon juice and seasoning, then continue to whisk until thick.
Mustard Sauce
Mix the egg yolk, mustard, honey and vinegar by hand, and season with salt and fresh-ground pepper. Stir vigorously, while pouring on the oil in a steady, thin stream. When the sauce has attained a mayonnaise-like consistency, stir in the chopped dill.
Adapted from Jamie Oliver, Gordon Ramsey, River Cottage and Sweden.se
Snow White Cake
"A Romanian treat for the festive season" - Cosmin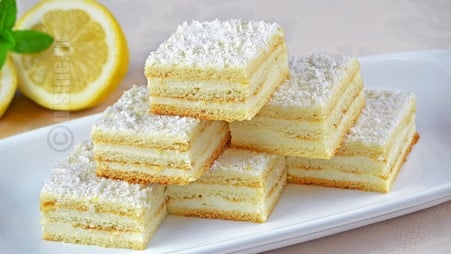 For Four sheets
800 g flour
2 whole eggs
200 g butter with min. 80% fat
200 g old powder
200 g sour cream (fermented, min 20% fat)
1½ cups of ammonium for cakes (10 g) dissolved in 3 tablespoons of cold milk
little lemon peel
little vanilla (vanilla sugar, extract or essence)
For cream
4 yellows
a splash of salt
350 g old cough
500 ml cold milk
core of a vanilla paste or 2 sachets of vanilla sugar (or vanilla extract)
bark from a lemon
squeezed juice from 2 lemons
350 g butter with min 80% fat, soft, at room temperature
In addition
little powdered sugar for decoration
HOW TO PREPARE
Prepare the dough with ammonia:
In the bowl from the kitchen robot add the butter, sugar powder, vanilla, lemon peel and mix it well. Add the 2 eggs and the cream and mix it. In a small bowl dissolve, the ammonia in some cold milk and poured it over the composition of the mixing bowl. Then add the flour. Then mix the composition to obtain a smooth dough ball. Wrap it in plastic and leave it for 20 minutes to rest in the kitchen table.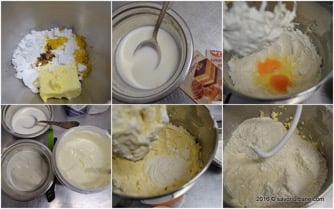 Then divide the dough into 4 equal portions (always use the scales) and stretch 4 sheets of 33 x 42 cm (as below). Then move each sheet of paper onto a baking sheet the size of the tray and then drag it all together with it into the tray.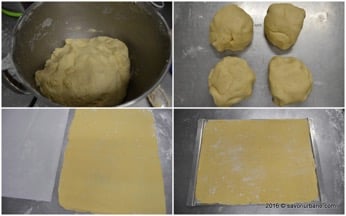 Baking:
Heat the oven to 180 C (medium to high) and bake the sheets for 8 minutes (2 at a time, on 2 levels). If you bake them in a row, 6 minutes is enough for each sheet. The sheets should remain somewhat white, with rounded edges.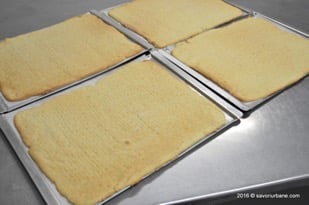 LEMON CREAM WITH BUTTER FOR THE SNOW-WHITE CAKE
The cream is a classic vanilla pastry cream: In a pot put the yolks together with the cough sugar, salt, vanilla and lemon peel. Mix them a little and add the starch. Gradually dilute it with cold milk and then mix it well. Set the pot on medium heat and stir it continuously until it has boiled. Let it boil for 1 minute.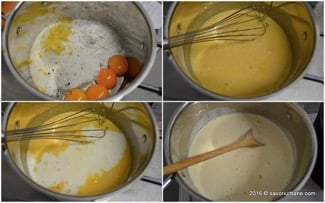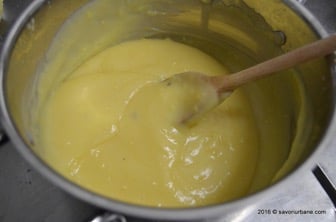 The vanilla cream with lemon should cool until it reaches room temperature. Cover it with plastic foil directly glued to its surface and put it on the windowsill to cool.
After it cooled down, mix it a little with the mixer and add the juice of the 2 limes. The cream becomes more fluid and has a very pleasant, sour taste. Start to put the soft butter pieces in it and mix after each slice.
FILLING AND FITTING THE CAKE: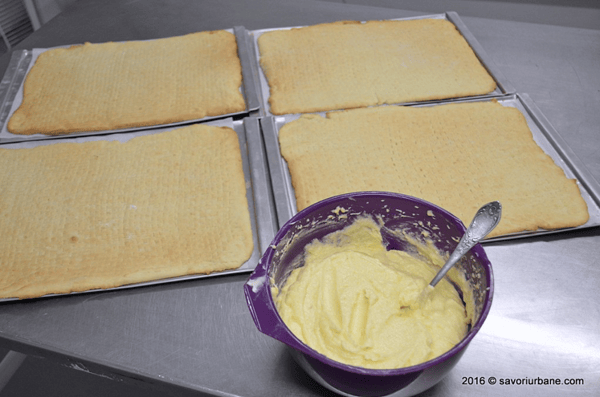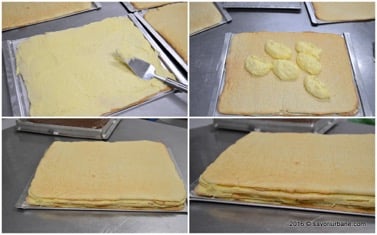 Press the cake with the palm and put it "in the press" until the next day. Cover it with a clean baking paper and place on it a tray with weights (2 books), evenly distributed on the surface of the cake. You can press it with a harder wooden bottom or another plank.
PORTIONING, DECORATING AND SERVING ALBA CAKE
It is known that the Snow-White cake needs 12-24 hours of milling before it can be cut. In this time, the cream grinds the countertops. Traditionally, the Snow-White cake is sprinkled with vanilla powdered sugar and cut into 2 x 5 cm rectangles or rhombuses.