Market access strategy
In a global marketplace, you will want to make sure that as many patients as possible around the world are benefiting from innovations in medicines or vaccines. To achieve this, you need to have an efficient and effective market access strategy in place, delivering optimally at all levels of the organisation.
You can start by asking yourself:
Do you maximise the value of your global knowledge to minimise duplication of research and writing efforts from country to country, as these markets localise your content, including global value dossiers?
If you answered 'no' to any of these questions, you should consider whether you have the right tools and processes in place to meet the new market access challenges for pharmaceuticals.
Difficult conditions are global
Emerging markets have supplied much of the impetus for new growth in pharmaceutical sales worldwide over recent years, particularly as widespread cost-containment has moderated growth in established markets such as the US and the European Union. Perhaps inevitably, though, this pattern is not sustainable.
As their populations and economies grow, and emerging markets seek to broaden patient access to high-quality healthcare, more attention is paid to cost efficiency in health systems generally and pharmaceuticals in particular.
This presents very particular market access challenges in territories where companies have invested in the promise of new growth especially as innovative medicines in many emerging markets are paid for largely out of pocket.
According to IQVIA, net expenditure on branded medicines in developed markets over the last five years rose from $326 billion to $395 billion, with 87% of the $69 billion in net growth coming from the US. The impact of statutory or negotiated price concessions across these markets can be seen from IQVIA's estimate of invoiced spending on branded medicines between 2012 and 2017, which rose from $401 billion to $541 billion.
IQVIA expects net brand spending in developed markets to decline by 1-3% in 2018, while over the next five years net brand expenditure is forecast to remain, flat despite new drug launches.
Developed Markets: Brand Invoice and net spending on medicines 2007-2022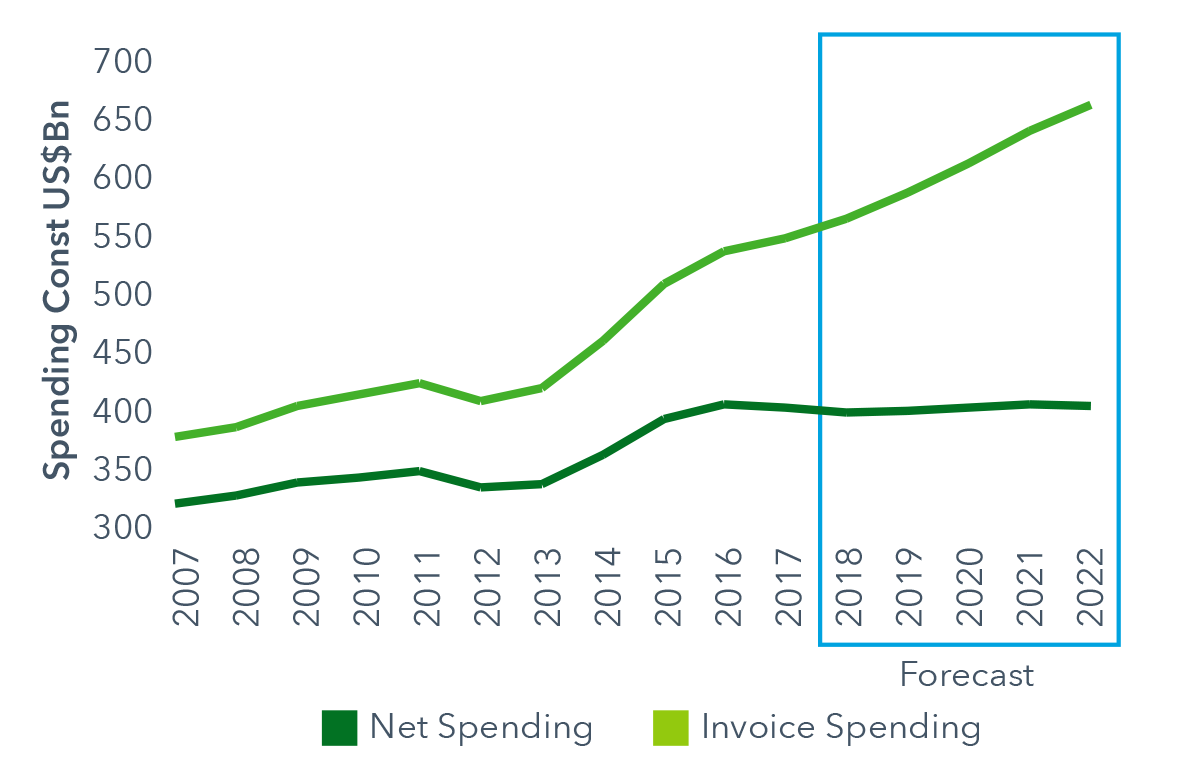 Source: IQVIA Market Prognosis, Sep 2017; IQVIA, Oct 2017 IQVIA Institute for Human Data Science
Nor will this highly competitive environment be relieved so much by above-average growth in emerging markets. As IQVIA points out, the 'pharmerging' (per capita income of less than $30,000 and five-year aggregate pharmaceutical growth of more than $1 billion) markets' share of global expenditure on medicines expanded from 13% in 2007 to 24% in 2017.
That corresponded to a spending increase from $81 billion in 2007 to $270 billion in 2017, with an average growth rate of 12.8% – more than twice the global rate. However, generic drugs continue to make up the majority of medicine use and spending in the pharmerging markets, IQVIA says.
In 2018, growth in drug expenditure is projected at 7-8% across these countries, compared with a compound annual growth rate of 9.7% during the previous five years, and marking the third year of growth under 10%.
Looking to 2022, drug spending in the pharmerging markets is forecast to grow more modestly by 6–9% to $345–375 billion. The largest of these markets, China, will expand by only 5-8%, to $145-175 billion, over the next five years, IQVIA predicts.
Pharmerging Markets: Medicines Spending and Growth 2007-2022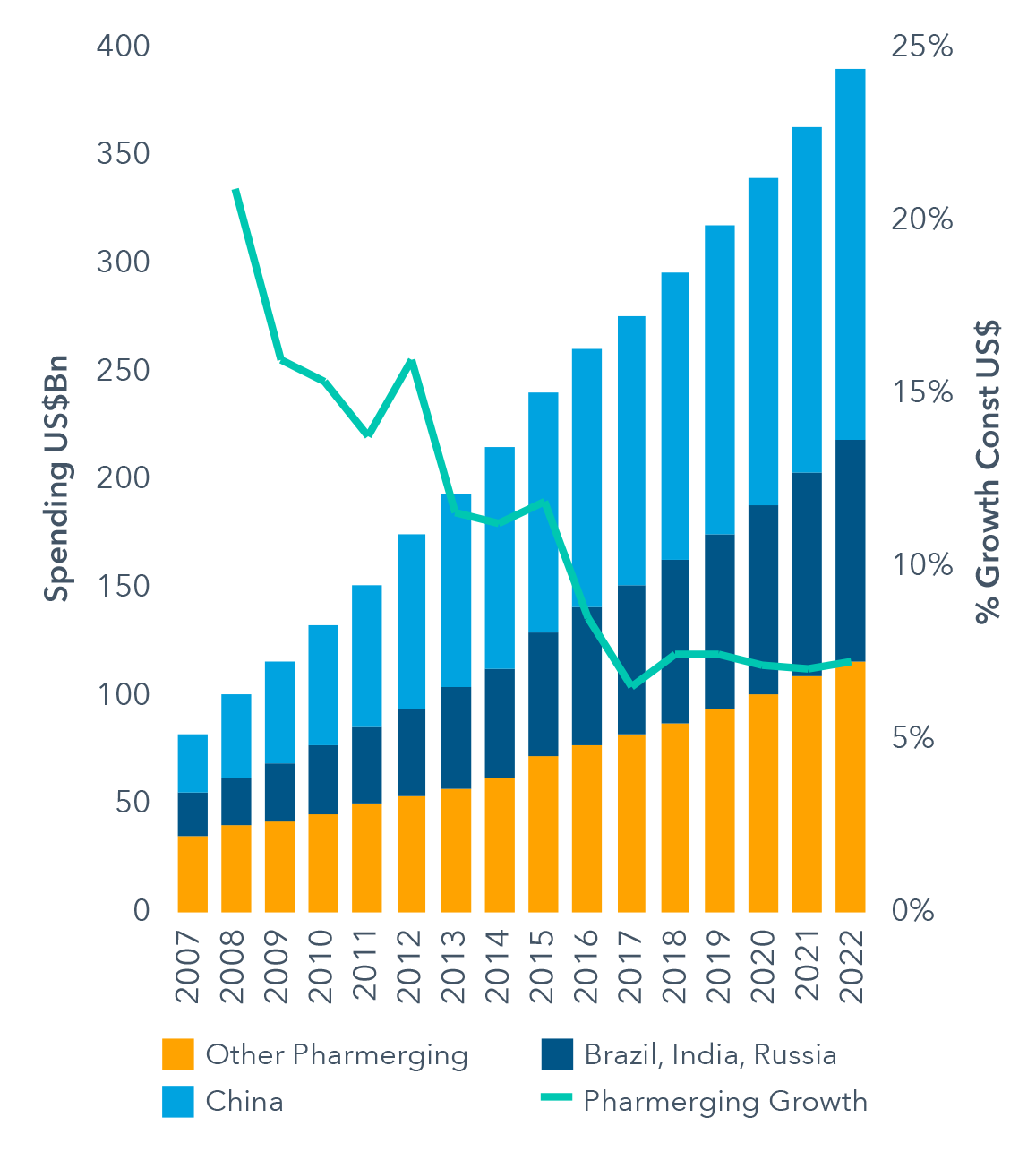 Source: IQVIA Market Prognosis, Sep 2017 IQVIA Institute for Human Data Science
Global market access challenges
As these observations make clear, globalisation of the pharmaceutical market also means globalisation of market access challenges. In parallel, product launch planning for medicines must be more globally focused, and yet more alert to abrupt changes in local market access conditions, than ever before.
It is no longer enough simply to plan a big product launch in a few developed markets and expect emerging markets to follow suit. New products must be tailored
to the needs, concerns, economic conditions, regulatory requirements and reimbursement hurdles of individual countries or regions, as well as competing with other locally available products.
So you have to make sure that both your global and country teams are sharing data just as
quickly and effectively as payers do, if not more so. This calls for something other than regional teams collecting and sharing more data.
It also requires increased visibility of timelines, milestones and reimbursement status across markets, as well as more closely aligned market access planning and execution. Without the right digital tools to address these challenges, you will risk delays, difficulties negotiating with payers and, ultimately, restricted market access.
Problems with current approaches
Most pharma market access teams currently use a mixture of document-based tools, typically in Excel or Microsoft Project, to manage market access plans and to track launch status, milestones and timelines. Often the global team creates PowerPoint presentations, based on the data from country-level tracking tools, to report back to senior management and others.
All these documents are typically shared in a SharePoint or similar environment, where team members can also collaborate on document creation. SharePoint is great for sharing but is of no use when you want to share, analyse, process and visualize effectively the data within these documents. Every update must be applied manually to each and every relevant document in turn, since there is no back-end database to facilitate exchange of information.
This means teams are likely to duplicate work, that they will lack the necessary visibility to realise their capabilities in full, and will miss key deadlines and roadblocks in the launch programme, leading to inefficient and ineffective execution of the market access strategy.
Even if your teams use these established tools optimally, the lack of efficiency involved in transferring data manually between documents, dealing with versioning control, and processing or consolidating data manually to generate reports, will slow down your market access processes.
We often see global market access team members spending far too much time chasing countries for status updates and timelines, making sure Excel trackers are submitted, or collecting data such as reimbursement restrictions and criteria. Then they commit significant time and effort to processing and consolidating these data, as well as generating reports manually. That is not a good use of great talent.
If you can free up the time global market access teams spend on administrative tasks, they can focus on what they should be doing: working strategically with the countries they support, to optimise market access resources and ultimately make sure more patients have access to your medicines.
Market access checklist
To do this, you must first invest in the right tools for the job. An ideal market access tool such as SmartAccess™, will as outlined in our Market Access Checklist:
Coordinate your activities. Facilitate market access planning and help coordinate market access activities across brands, countries and functional silos.
Provide a roadmap. Set out a clear roadmap of who is doing what and when in market access.
Help prioritise. Guide team members in focusing on the most critical issues at any given time.
Track status and timelines. Track timelines for market access activities and status across global and affiliate teams, making clear when these are on track and highlighting any areas of concern so that teams can reprioritise.
Raise visibility. Provide visibility of market access status, key milestones, HTA tracking and timelines across countries, using dashboards and data visualiation.
Drive consistency. Provide a consistent framework and tool for market access across countries, brands and therapy areas, to reduce duplication of effort and discourage market access teams from reinventing the wheel.
Share insights. Make it easy for global and local teams to share payer insights and requirements in each local environment and reimbursement system, as well as across therapy areas and new products.
Reduce risk. Minimise the risk of market access setbacks by backing up claims with consistent evidence across countries.
Streamline efforts. Developed a streamlined approach that cuts costs and eliminates duplication of work while promoting increased transparency and accountability.
Manage corporate intelligence. Manage your corporate intelligence more effectively so that, when people move on, the intelligence does not go with them.
Managing market access barriers
If you do not choose the right tools to address and manage market access barriers as promptly and effectively as possible, you will not only jeopardise first-mover advantages in key markets but potential returns on investment from products whose margins are under constant pressure from cost containment worldwide.
Ultimately, you will leave patients waiting for medicines that could make all the difference to their future prospects, quality of life and ability to live their daily lives to the full.
An effective digital tool will enhance the visibility, transparency and timeliness of your market access programme, enabling cross-company communications and real-time alignment of all related activities.
It will ensure that any market-access challenges are quickly and comprehensively anticipated, addressed and absorbed, so that lessons learnt are applied productively from one territory to the next.
Now is the time to ask yourselves: are you really managing your market access functions as effectively and seamlessly as you could do? Is everyone involved in market access working together as productively as they should be, and towards the same goals? Do you have full visibility of market access issues across workstreams and countries worldwide?
If there is still room for improvement, you should be talking to us. We will show you how, with the right support, you can turn market-access hurdles into a problem for your competitors, not your own launch programme.
If you recognise that, for all your efforts in optimising launch readiness, there is still room for improvement, you should be talking to us. Do get in touch, and we can show you what is possible when you use smart technology in real-time to make every launch count.