Building a consistent and transparent launch readiness framework, together with associated best practices across brands and therapy areas, is a communications exercise as much as anything. Key strategies, objectives, benchmarks, timelines, messages and materials need to be absorbed, integrated and shared right across the organisation, regardless of functional, cultural or national boundaries.
Although the launch readiness framework should be consistent, it must also incorporate enough flexibility to deal with market-to-market variations. And it has to be capable of addressing any unexpected gains or reversals that may complicate the launch timetable at both local and global level. At the same time, these can provide valuable lessons applicable to other markets and stakeholders.
Traditional launch tools fall short
Many pharmaceutical companies are still trying to plan and track their launch activities using traditional project management tools such as Microsoft Project and Excel. In terms of consistency, these tools are flawed in a number of ways.
For example, Excel sheets offer global teams limited insight into how the sheets are used at country level. There is no real-time tracking of usage, nor of launch related data, to enable better-informed decisions company-wide. Moreover, different brand and therapy-area teams habitually find ways of tailoring Excel tools to their own priorities, undermining the agreed launch framework.
With the right launch readiness tool, teams can be confident that all of the issues identified above are flagged up in real time and added to a knowledge base that continues to inform launch activities as the product roll-out evolves from market to market.
The right product launch software will also reinforce a consistent and transparent launch readiness framework, ensuring it is fully incorporated into all related business activities across brands and therapy areas. Moreover, it can help to measure how and to what extent this launch framework is being embraced and applied throughout the organisation.
Challenge #2 - Ensuring that key personnel are focused on strategic priorities
These should be privileged over administrative distractions such as collecting, processing, formatting and consolidating data. At the same time, key personnel should develop a global knowledge base for ongoing company-wide insights into policy or regulatory changes.
A fully aligned launch framework, with the right launch tool to ensure it is activated and updated in real time across functional, hierarchical or national boundaries, is also about making the best use of human resources. Without it, key personnel may find themselves caught up in low-level processing activities.
These distractions may arise in particular when it comes to managing the enormous flow of data from drug development and commercialisation. They risk diluting the effectiveness of launch preparation and implementation by diverting staff energies from defining and realising crucial strategic priorities.
Ultimately, those priorities will provide the true differentiators for any new drug in the marketplace. Without them, the launch framework is likely to remain diffuse and prone to slippage.
A well-designed, intuitive launch software will give you the visibility, consistency and functionality to manage a broad spectrum of new product launch steps in the most effective way possible – for example, by making sure market data are collected promptly and efficiently by the right people at the right time.
By automating processes such as report generation, a tailored launch readiness tool can free up members of the launch team to concentrate on launch strategy, rather than on mundane administrative tasks such as chasing markets for updates, collecting and consolidating data, or preparing reports.
Key personnel can also use the new product launch software to keep real-time track of progress and updates from market to market. That way, they will continue to accumulate knowledge and insights to feed back into the launch planning framework, making it all the more responsive to disruption in the regulatory, reimbursement or overall market access climate.
Challenge #3 - Making sure that timelines and status for all launch activities across workstreams, both at global and country level, are visible in real-time.
This is also about ensuring that global and country teams are fully aligned across functional silos, so as to optimise local implementation of global launch strategy.
Many pharmaceutical products, for various reasons, launch later than planned. These delays can be extremely costly. A McKinsey & Company analysis of first-to-market advantage in pharmaceuticals found the average market share in their class of first entrants 10 years after launch was 40%, compared with 33% for competitor second products to market.
Real-time visibility of launch timelines and status is a common theme in this respect. Chasing markets for updates, or collecting and consolidating data from poorly aligned launch readiness tools, may leave key personnel struggling to claw back vital time for launch strategy and implementation.
All internal stakeholders need to be on the same page about launch progress from market to market, regardless of national boundaries, functional silos or position within the organisation. Then there is a much better chance of global strategy being translated into timely and effective market entry at local level.
Changes in status and timelines can undermine careful launch scheduling, designed to circumvent as much as possible market access barriers. These may include country-to-country reference pricing or shadowing of health-technology assessments.
Why visibility matters
A new product launch tracker that continuously updates launch status and timelines for all launch activities across workstreams and countries will act as a checklist and an early-warning signal for any complications. It enables companies to limit collateral damage from unexpected or unavoidable reversals in high-risk markets.
IMS Health (now IQVIA) singles out visibility of launch excellence, along with global-local alignment and the quality/timeliness of launch execution, as the key issues in determining the success of new contenders in the pharmaceutical market.
A launch management platform that provides a 360˚ view of new product launches, as well as the status and timelines of associated launch activities across geographies and functional silos, can help to address all three of these critical factors in launch excellence.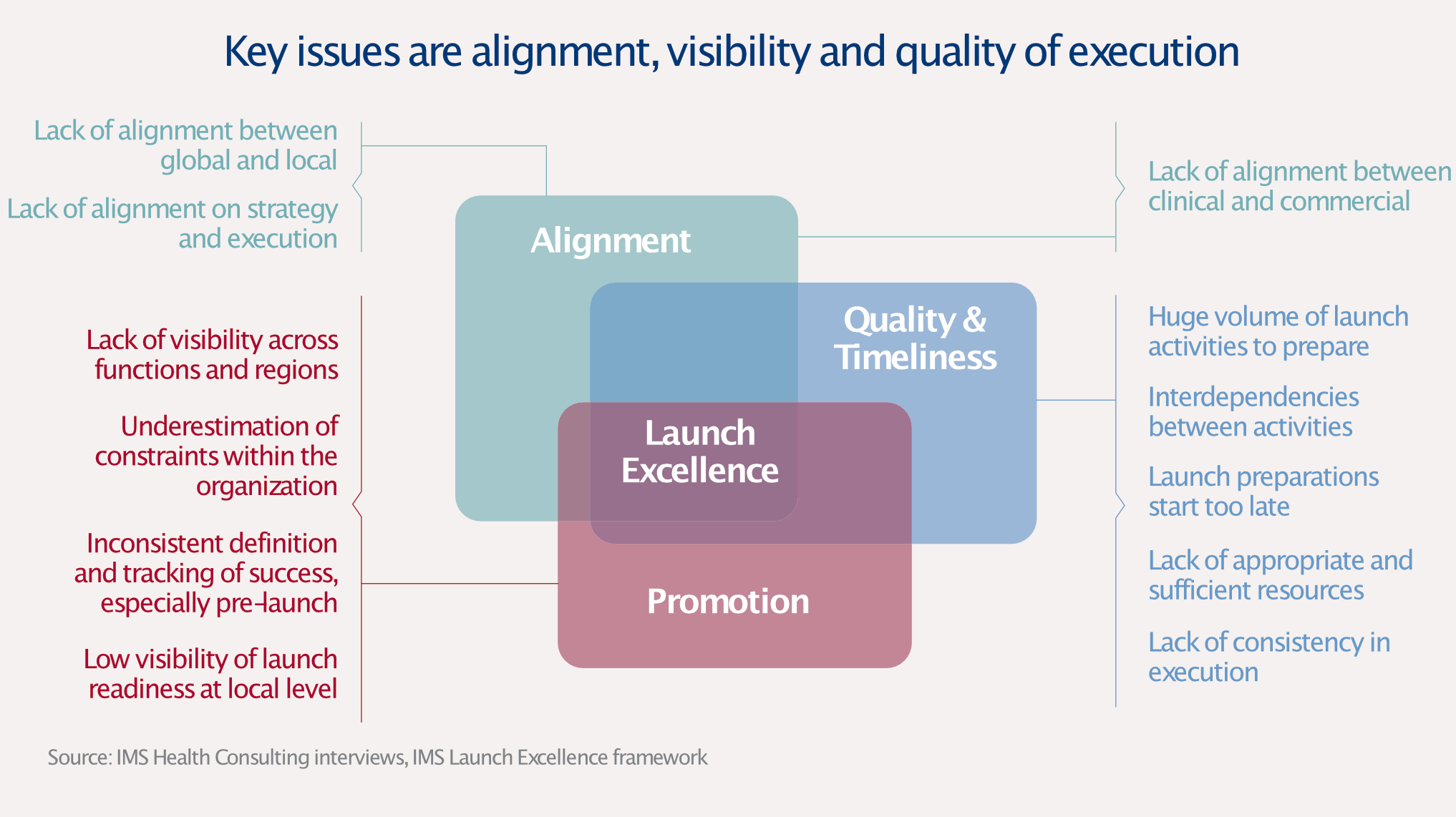 Source: IMS Health white paper: Launch Excellence IV
More challenges to come
With the pharmaceutical industry riding a new wave of R&D productivity on the back of biologics, orphan drugs and precision medicines, yet with healthcare payers bearing down ever more aggressively on drug costs, the launch challenges outlined above will only intensify in years to come.
Already the first gene therapies are starting to emerge, at prices that far outstrip the more expensive biologics and raise a whole new set of issues around patient access, budgeting and reimbursement.
To navigate this high-risk environment successfully, and ensure that new products reach their full potential wherever launched, companies must embrace integrated digital technologies that bring launch readiness into focus for all internal stakeholders at the touch of a keyboard or keypad.
This too raises crucial questions. Can you honestly say that you are managing your launch readiness as efficiently and seamlessly as you could be? Is everyone involved in the launch process collaborating as effectively as they should be? Do you have full visibility of launch readiness across workstreams and countries worldwide? And are you avoiding unnecessary delays and pitfalls that can blunt the impact of your pharmaceutical new product launch?
If you recognise that, for all your efforts in optimising launch readiness, there is still room for improvement, you should be talking to us. Do get in touch, and we can show you what is possible when you use smart technology in real time to make every launch count.