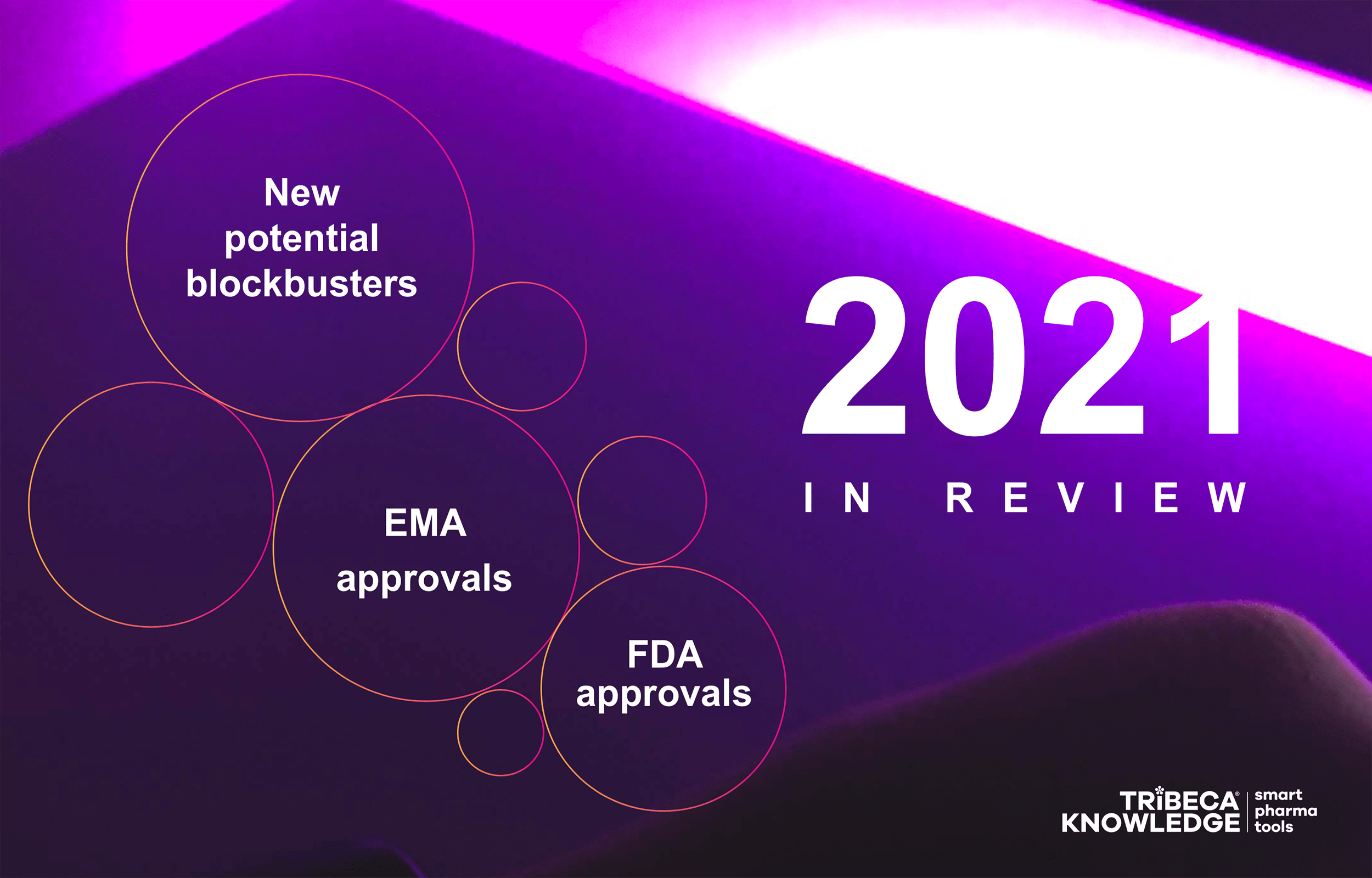 In another year of considerable turbulence for pharmaceuticals, with COVID-19 continuing to disrupt business strategies and patient access to medicines, regulators and companies alike are finding ways to keep the approval flow coming. The trend for 2021 new drug approvals in both the US and the European Union, the two most important launching pads for innovative medicines worldwide, has more than kept pace with 2020.
That includes vaccines and other treatments specifically for COVID, although their impact on approval tallies for 2021 is largely marginal, at least in the US. Initial approvals of COVID-19 vaccines started filtering through in December 2020, although these were conditional. Conditional approvals do show up, however, as recommendations by the European Medicines Agency's Committee for Medicinal Products for Human Use (CHMP) at its monthly meetings. They are therefore reflected in EU approval tallies for both 2021 and 2020 (e.g., AstraZeneca's Vaxzevria in January 2021).
Other COVID-related products have been recommended for conditional approvals outside the scope of CHMP monthly meetings. The Pfizer/BioNTech vaccine, Comirnaty received a positive opinion on 21 December 2020, a recommendation endorsed by the European Commission on the same day. Moderna's Spikevax was both recommended and endorsed for conditional approval on 6 January 2021, AstraZeneca's Vaxzevria on 29 January 2021, and Janssen-Cilag's vaccine for coronavirus on 11 March 2021.
The FDA's annual approval lists, on the other hand, do not feature its Emergency Use Authorizations (EUAs), even though these have been granted to a number of COVID-related products. This skews any direct comparison of US and EU approvals. A more meaningful guide is US and EU approvals independently from one year to the next (see Table 1 below).
This year did see the FDA issue its first full approval to a COVID-19 vaccine: Pfizer/BioNTech's Comirnaty. Otherwise, COVID-19 does not feature at all among the new product cleared by the FDA in 2021 to date. And, apart from the three conditional approvals noted above, the CHMP's monthly meetings have not considered any novel COVID-19 therapy.
COVID-19 approval impact
There were inevitably fears that the intense focus on COVID-19 might detract from approvals in other disease areas, depleting or diverting resources at regulatory agencies and/or pharmaceutical clients. By and large, these concerns appear to have been unwarranted.
That is not to gloss over the real disruption the pandemic has unleashed. Nonetheless, industry has found or accelerated solutions to these problems. Similarly, regulators have acclimatised to remote interactions with clients, albeit not always as quickly as some commentators would have hoped. But adjustments have been made, and they may point the way towards a more pragmatic future in drug regulation.
FDA and EMA approvals 2021
Bearing these factors in mind, FDA and EMA approvals 2021 have maintained a healthy pace, with CHMP approval recommendations already well ahead of 2020 on a like-for-like basis.
The FDA's Center for Drug Evaluation and Research (CDER) is so far neck and neck with last year's approval count. It had cleared a total of 42 new medicines and therapeutic biologics by mid November 2021. That equalled the 42 new medicines/therapeutic biologics at the same point in 2020. A total of 53 marketing authorisations were granted by CDER for the whole of that year.
Moreover, approvals of new biological agents through the FDA's Center for Biologics Evaluation and Research (CBER) show some signs of picking up pace, with 11 of these products licensed by early November 2020, versus just eight at the same time in 2020 and eight for the full year. And neither of these figures include EUAs, which the FDA has used quite extensively to boost its therapeutic and preventive arsenal against COVID-19.
The EMA has also turned in an impressive performance. As of mid-November, the agency's Committee for Medicinal Products for Human Use (CHMP) had issued approval recommendations for 57 new medicines, therapeutic biologics and vaccines . That compared with 53 positive opinions in year-to-date 2020 and 62 CHMP approval recommendations for the full year.
In most cases, the European Commission follows the CHMP's positive opinions and grants approval to market a new medicine throughout the EU. There may be several months' lag between recommendation and Commission sign-off - although not for COVID-19 vaccines (see above). At the time of writing, 36 of the 57 new products recommended by the CHMP had secured marketing authorisations (full or conditional) from the Commission, according to publicly available information.
Table 1: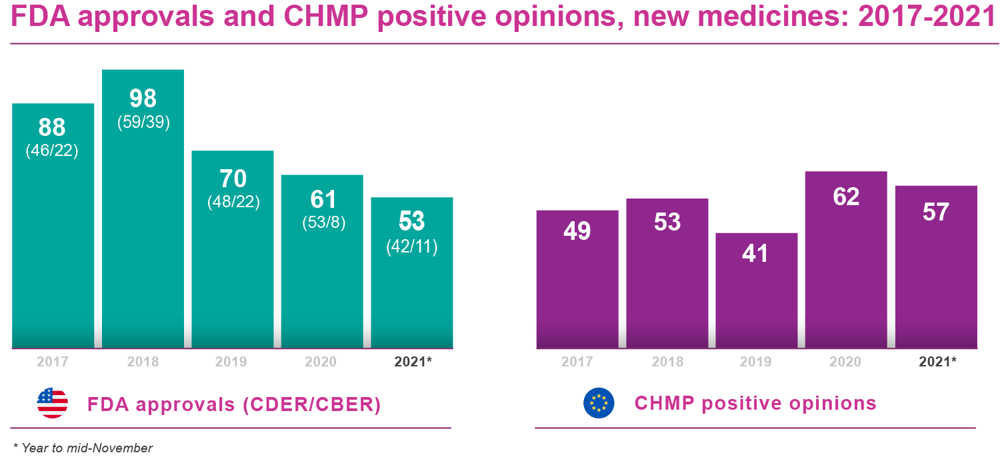 As the table indicates, 2020 was a strong year for new drug approvals on both sides of the Atlantic. However, both the US FDA and the CHMP (with one more monthly meeting scheduled for December) look within reach of matching or bettering those records in 2021.
New and novel medicines
For the purposes of this review, FDA approvals omit generics and biosimilars. The CHMP recommendations here do not include generics or biosimilars either, nor products approved through hybrid or informed consent procedures that rely on pre-existing data from other medicines or biologics.
For FDA registration, the CDER lists 'novel medicines', which are typically, but not exclusively, new molecular entities or NMEs and can extend to diagnostic agents. CBER approvals include gene/cell therapies and vaccines, but many of them are for screening tests, assays or reagents.
EMA-approved 'new medicines' include chemically based drugs as well as biologicals and vaccines. Whether products awaiting final EMA registration are actually 'new active substances' – the nearest equivalent to FDA-approved NMEs – is not clear until the European Commission gives its approval and the relevant documentation appears on the EU's website
Of course, marketing authorisation does not guarantee launch, let alone launch excellence. Many variables remain, such as local market conditions, pricing, reimbursement and, increasingly, health technology assessment. Barring unexpected setbacks, companies with an FDA approval and/or CHMP recommendation will want to access as many key global markets as possible, with optimal timing and impact.
Breakthrough innovation
Volume apart, the approval lists for new medicines in 2021 tell us that, in addition to novel vaccines for COVID-19, breakthrough innovation continues to underpin US and EU approvals, especially for rare diseases. The lists include gene and cell therapies as well as the first potentially disease-modifying treatment for Alzheimer's. Here are some examples:
In June 2021,

the FDA approved Biogen/Eisai's Aduhelm

(adacanumab)

, the first novel therapy for Alzheimer's disease in the US since 2003, and the first-ever treatment directed at the underlying disease pathophysiology. Whether the FDA should have approved

Aduhelm

under accelerated review has

been fiercely debated.

The EMA is still evaluating an approval application for

adacanumab

.

Celgene/Juno Therapeutics' CAR-T cell therapy Breyanzi (lisocabtagene maraleucel) for diffuse large B-cell lymphoma (US only).
Bristol-Myers Squibb/Bluebird bio's Abecma (idecabtagene vicleucel), a CAR-T cell therapy for multiple myeloma (US and EU approvals).
Bluebird bio's

Skysona (elivaldogene autotemcel)

, a viral gene therapy for cerebral adrenoleukodystrophy viral gene therapy (EU only). The company subsequently announced it was withdrawing the marketing authorisation and focusing its energies on the US market, due to difficulties securing reimbursement for bluebird's gene therapies in Europe

.

Sanofi's Nexviazyme (avalglucosidase alfa-ngpt), an intravenous enzyme-replacement therapy for late-onset Pompe disease (US only).
Roche's Evrysdi(risdiplam), the first oral treatment for patients with specific types of spinal muscular atrophy (EU only; the FDA approved Evrysdi in August 2020).
Janssen's Rybrevant (amivantamab-vmjw), the first treatment for non-small cell lung tumours with specific types of genetic mutations (US; CHMP recommendation for conditional approval, October 2021).

Sarepta Therapeutics' Amondys 45 (casimersen) for Duchenne muscular dystrophy (DMD) patients with a confirmed mutation of the DMD gene amenable to exon 45 skipping (US only).
Incyte Biosciences' Pemazyre (pemigatinib) for locally advanced or metastatic cholangiocarcinoma characterised by fusion or rearrangements of fibroblast growth factor receptor 2 (EU only; FDA- approved in April 2020).
The shift to specialty drugs
Of the 57 products recommended for approval by the CHMP in the year to date, 23 were orphan medicines (21 out of 53 in the same period of 2020), underlining the continuing shift to specialty drugs in pharma. A number of US approvals so far in 2021 were also under orphan-drug designations, such as:
Regeneron's Evkeeza (evinacumab-dgnb) for omozygous familial hypercholesterolemia

;

Sarepta Therapeutics' Amondys 45 (casimersen) for Duchenne muscular dystrophy;
Apellis' Empaveli (pegcetacoplan) for paroxysmal nocturnal hemoglobinuria

Sanofi Genzyme's Nexviazyme (avalglucosidase alfa-ngpt), for late-onset Pompe disease.
Blockbuster potential
For companies with innovation to sell, pharmaceutical launch success inevitably comes down to revenues, profit margins and lifecycle management. And innovation only has meaning for societies and healthcare systems if it reaches and serves patients in need. Among new drugs launched or close to market in 2020, commentators have identified a number of potential blockbusters. These include:
Biogen/Eisai's Alzheimer's therapy Aduhelm (aducanumab)
Roche's Evrysdi(risdiplam), for spinal muscular atrophy.
UCB's Bimzelx (bimekizumab), for moderate-to-severe plaque psoriasis.
Bristol-Myers Squibb/Bluebird bio's

Abecma (idecabtagene vicleucel)

.
Janssen's Rybrevant (amivantamab-vmjw), for genetically defined non-small cell lung cancer.
Janssen/Legend Biotech's ciltacabtagene autoleucel, for relapsed or refractory multiple myeloma (currently under accelerated US and EU review).
Reata Pharmaceuticals' bardoxolone methyl for chronic kidney disease caused by Alport syndrome (currently under US and EU review as an orphan drug).
Amarin's Vaskepa (icosapent ethyl), EU-approved in March 2021 to reduce the risk of cardiovascular events in high-risk statin-treated patients with elevated triglycerides.
Aurinia Pharmaceuticals' Lupkynis (voclosporin), for active lupus nephritis
New launches playing a longer game
Despite the COVID-19 dividend and the range of new innovation highlighted above, Clarivate's Drugs To Watch report for 2021 lists only four drugs scheduled to enter the market this year or in 2022 and achieve blockbuster status (annual sales of US$1 billion or more) by 2025. That compares with 11 potential blockbusters in Clarivate's Drugs To Watch report for 2020.
As Clarivate acknowledges, this year's list is "conservative", partly reflecting a trend towards specialty drugs "launching with very narrow initial indications and expanding gradually into other indications over many years". That mirrors a strong tendency for drug development to target rare-disease indications with limited populations (albeit typically offset by premium pricing). Many of these speciality drugs are, as Clarivate points out, are playing a longer game than the next five years.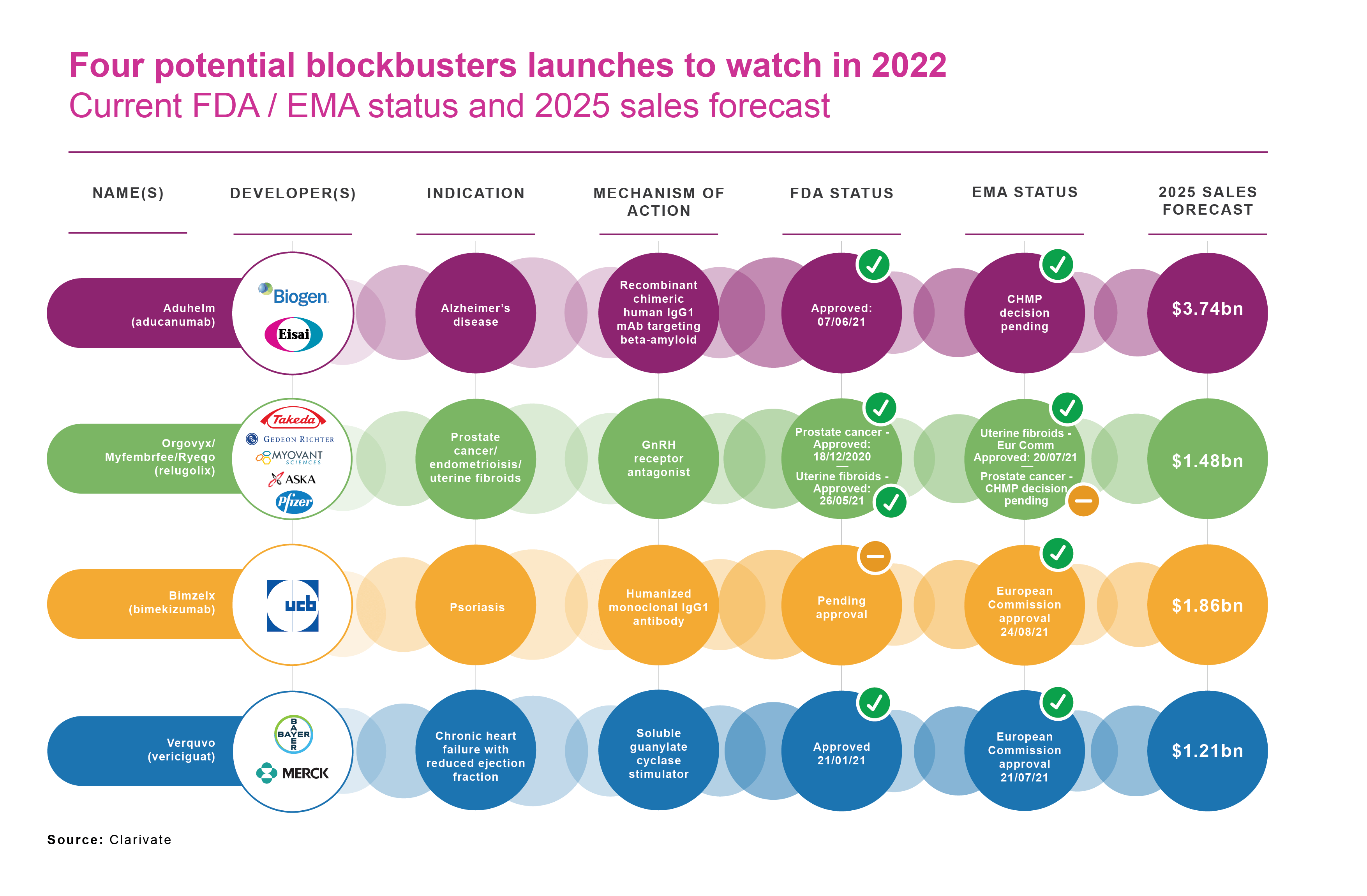 From R&D to

launch excellence
In the meantime, drug-development pipelines continue to swell, albeit at around half the pace seen in 2020. According to Informa's annual Pharmaprojects Pharma R&D review, there were 18,582 candidates in development in early 2021 ̶ 4.76% more than in the previous year's analysis, when pipeline growth year-on-year was 9.6%. In terms of recent years (6.0% growth in 2019, 2.7% in 2018), a nearly 5% increase is respectable enough evidence that R&D engines are still tuned to deliver.
There were also early indications in February 2021 that launches of new active substances (NAS) in 2020 had not taken any major hit from COVID-19, despite some initial delays in the earlier part of the year. NAS launch numbers for 2020 looked like exceeding 70 again, following two very successful years in 2018 and 2019, Lloyd reported.
This suggests once more that, in the face of unprecedented worldwide disruption, pharma – along with regulators – has learnt to adapt. Which is not to say pharmaceutical companies do not face considerable challenges with market access. They must still work on every front to make sure productive R&D and successful drug approvals translate into launch excellence.
That calls for the right launch management tools such as SmartLaunch™ to ensure milestones, timelines and challenges in pharmaceutical launch plans are visible, coordinated and actionable in real-time across different countries, functional silos and layers of management. Technology-enabled cross-functional alignment and collaboration, across the whole spectrum of activities driving launch readiness and excellence, raise the odds that continuing buoyancy in drug approvals will mean new growth for industry and new opportunities for patients to live fulfilling lives no longer monopolised by disease.
TRIBECA® Knowledge's transformative digital tools
TRiBECA® Knowledge is a market leader in smart business tools that help pharmaceutical companies successfully launch and commercialise products. Our tools enhance visibility and transparency, streamline processes and drive communication and collaboration across brands, management layers, business functions and countries worldwide.