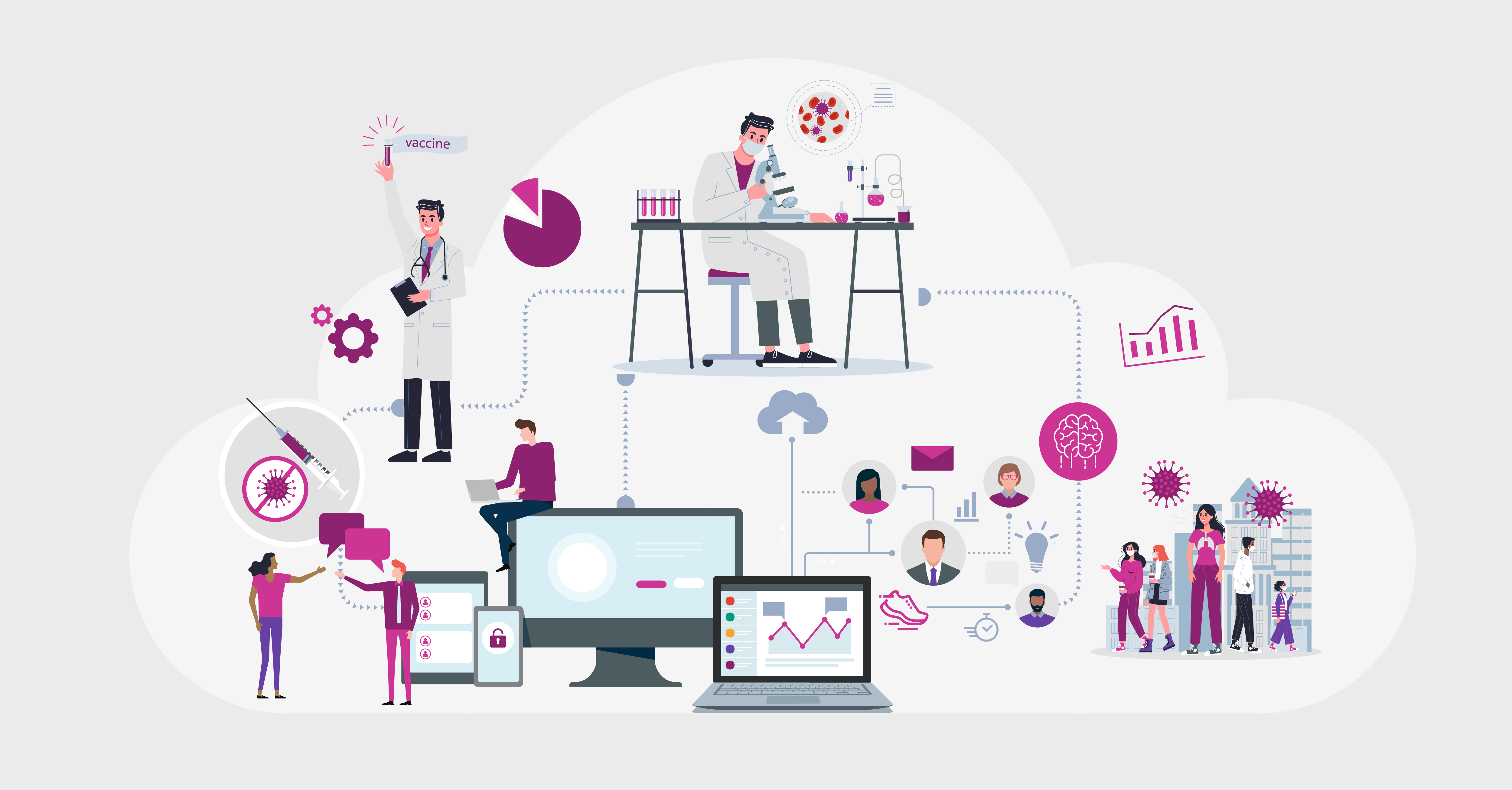 In the COVID-19 era, pharmaceutical companies are fast learning that digital transformation strategy is not just an appealing concept but a strategic imperative. With the pandemic offering an unexpected template for agile means of remote working, multinationals such as Pfizer have embraced digital technologies as catalysts for change at every level of their organisation.

Whether in research and development, manufacturing, commercialisation, market access, tendering or launch management, digital can help streamline and integrate operations, ensure the most effective/efficient route to market, and address the changing needs of a widening customer/stakeholder base. With the right collaboration software, for example, you can optimise launch readiness and effectiveness, align market access planning and execution, or track market-to-market variations in tenders across workstreams in real-time.
As Lidia Fonseca, Pfizer's chief digital and technology officer, made clear at the FT's recent US Pharma and Biotech Summit, Pfizer's push for a more science-driven, patient-focused organisation, with digital at its core, was already well underway before the first human cases of COVID-19 emerged in Wuhan, China in late 2019. Fonseca joined Pfizer in January of that year, leveraging previous experience as chief information officer at Quest Diagnostics and executive vice president of global operations and technology at Synarc Incorporated.
She immediately embarked on a digital transformation roadmap spanning operations from drug discovery and development to manufacturing and commercialisation. Faced with the escalating pandemic threat, Pfizer leveraged what Fonseca called "light-speed concepts" to help bring BioNTech's COVID 19 vaccine to market in record time. That included delivering a completely virtual approval submission to the US Food and Drug Administration.
As Pfizer's chief executive officer Albert Boura explains, a typical vaccine development programme can take up to 10 years. Pfizer and BioNTech had the initial advantage of creating an mRNA vaccine synthetically. They also benefited from a range of acceleration mechanisms, such as testing several vaccine candidates in parallel and consolidating Phase II and Phase III trials. Pfizer signed a letter of intent to co-develop the vaccine with BioNTech on 17 March 2020. The first dose was administered in the UK on 8 December 2020.
The importance of scale
The technologies Pfizer used to strike out for a digital future, and applied successfully in its vaccine development programme, were already available, Fonseca acknowledged. The differentiating factor was Pfizer's ability to scale them up broadly, positioning the company to accelerate the digital transformation strategy right along its value chain.
For example, in a global COVID vaccine trial involving 46,000 participants, Pfizer overcame pandemic-related access problems by replacing site visits with virtual monitoring. It also took advantage of artificial intelligence and machine learning so that scientists could analyse, and make decisions on, trial data every few hours. Previously, Fonseca noted, information would be collected on different events in clinical trials as they occurred, and may not be looked at until weeks later.
Another valuable tool in Pfizer's digital transformation framework was real-time predictive models of COVID-19 infection rates, helping the company to target and optimise trial-site selection. This was especially important since the vaccine trial was not only very large but required parallel, not just sequential, development to shorten approval pathways.
Just as it needed to manage clinical-trial participants virtually, Pfizer used augmented-reality technology to diagnose, maintain and repair its laboratory and manufacturing equipment. This was at a time when over 80% of Pfizer employees had shifted to home working, while those still coming into manufacturing sites had to keep safe by minimising contact.
Moreover, with COVID-19 imposing new barriers to cross-border trade, an accelerated digital operations centre gave the company visibility throughout its supply chain. Pfizer was able to maintain real-time monitoring of shipments and temperatures anywhere in the world.
A more science-driven, patient-focused organisation
It helped, Fonseca noted, that the company was already transitioning pre-pandemic towards a more science-driven, patient-focused organisation, with digital transformation as its motor. Digital was also a gateway to new ways of working, such as focusing more intently on Pfizer's customers. This meant shifting emphasis from Pfizer's own processes, which typically operated vertically, to horizontal thinking aligned with the patient experience.
Also crucial to the new direction was prioritising outcomes over activities. Part of that was determining how to move faster without cutting corners. With digital, Fonseca noted, complex processes could be simplified while maintaining quality and reducing scope for human error.
Turning data into insights
Data processing and analysis are equally critical to digital business transformation. Pfizer applies three basic tenets in its data strategy. First, ensuring that foundational capabilities, such as indexing and tagging, go through a quality process that prepares the data for conversion into insights; then bringing all of these outputs together in a centralised data lake.
The third layer is surfacing (i.e., identifying the most appropriate predictors for analysis in) the insights from tagging, cleaning, etc, according to need. For example, additional capabilities are layered in for more analytically-minded scientists, so that they can run models or apply algorithms.
Having the courage to think big
The biggest lesson from COVID-19, Fonseca said, was "having the courage to think big" and deliver Boura's mandate that Pfizer "had to become a more modern company, digitizing data through every link in our value chain".
Accelerating digital across the whole organisation was also a motivator for Pfizer employees, who could "recognise themselves" and the strategic drivers of digitisation wherever they worked.
Pfizer's digital transformation illustrates both the urgency with which the pharmaceutical industry is pursuing digital strategies and the many ways in which data and digitisation can be harnessed to improve speed, precision, cohesion and effectiveness at all levels of an organisation. This applies equally to market access or a pharma product launch, where substandard management systems can slow or interrupt the trajectory to market.
The effects may be irreversible: not only on potential revenue streams but on the patient needs that were such an urgent driver for rapid development and distribution with COVID-19 vaccines. The right transformation technology can help to align, integrate, visualise and streamline activities that might otherwise be hampered by market-to-market variations, complexity and uncertainty in the operating environment, internal division, duplication, or lack of transparency.
As Fonseca emphasised, digital is here to stay, and COVID-19 is a catalyst to accelerate and intensify digitisation in the pharmaceutical industry wherever it creates value. Now is the time to ask: are your digital capabilities, in launch readiness, market access or tendering, really as transformative as they could be?
TRIBECA® Knowledge's transformative digital tools
TRiBECA® Knowledge is a market leader in smart business tools that help pharmaceutical companies successfully launch and commercialise products. Our tools enhance visibility and transparency, streamline processes and drive communication and collaboration across brands, management layers, business functions and countries worldwide.