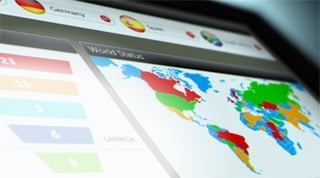 Across the world, pharma companies of all sizes are still using a patchwork of non-specialised tools, typically Microsoft Excel, to organise their market access and launch efforts, with these files often shared across global and country teams in a SharePoint environment.
SharePoint does many things well, including document management and facilitating discussions. However, it's not the optimal solution for planning and tracking your market access and launch activities.
We're in a new era of pharma launches, which come with tough new challenges. An increasingly global focus combined with complex new payer environments and value-based pricing regulation mean that falling behind on your launch schedule because of inefficient digital tools could see you locked out of certain markets and turn a successful launch into a total flop. A successful launch requires alignment of global and local plans, careful coordination and sequencing of activities and full visibility of status and risks at any time. To do that effectively, pharma companies need more than just a myriad of shared spreadsheets.
Here are 6 reasons you should look beyond Excel and SharePoint for your launch and market access planning and tracking:
1. You want to share data, not just files
Managing and coordinating market access and launch activities across worldwide markets relies on effective sharing, analysis and reporting of real-time data, not just sharing the actual files that contain the data. The data needs to flow freely from a country as they update their timelines and activity status and automatically provide the global teams with visibility of where they're on track and where they're at risk of falling behind. Data visualisation and dashboards helps the launch team re-prioritise and focus on the most critical tasks. A database to facilitate the automatic free-flow of data will ensure that all the information sits in one place and does not manually have to be collected and processed from a myriad of spreadsheets. If there is one thing you should never attempt to do in SharePoint, it's try to create a database.

2. You need to make the most of your talent
We often see global launch and market access teams spending a lot of time chasing markets for updates - collecting and analysing spreadsheets, importing the data into global Excel trackers and so on. Senior members of the global team doing what is effectively admin work is not a particularly good use of talent. A good bespoke planning and tracking tool will free up their time to advise and consult the markets to improve the quality of planning and execution.
3. You want to improve decision-making with real-time dashboards
By using Excel trackers that are submitted to the global team monthly, a critical change - that may have an impact on a key launch date - may only be visible to the global team up to a month later when their Excel sheets are submitted. If all global and country teams work on their plans and track status and timelines in the same online tool, they will have real-time dashboard views of their status across markets and alert team members as a potential issue arises, such as risk of delays.
4. You're looking to embed a consistent framework
Excel-based tools always come with the temptation for different brand and country teams to reinvent the wheel and create their own templates and methodology. A bespoke online tool helps to embed a framework across brands and markets, providing a consistent way of working, whilst being flexible enough to address particular needs of individual brands and countries.
5. You must align global and local plans
Global and country plans managed from a central database allow data to be handled efficiently and be easily cascaded across global and local plans to provide greater alignment. If there is a change to the framework that needs to be reflected in all country plans, say a key milestone that all countries needs to meet, a bespoke tool allows you to add them at the touch of a button. This eliminates the need to manually enter the new milestone into 70 countries' Excel plans, and will create an automatic alert, saving you manually messaging each team.
6. You want to know how your tools are being used
When Excel tools are disseminated across markets, you have very little knowledge of how they are being used. With a bespoke online planning and tracking tool, sophisticated analytics and measurements show how the framework and tools are being used that can drive interactions with markets and evolve the solution.
Do you need bespoke digital tool for planning and tracking?
As we've seen, the lack of free-flowing data between documents uploaded to SharePoint can severely limit your market access and launch planning process. A bespoke online tool unlocks the potential of your planning and execution by overcoming these limitations, quickly and efficiently gathering and disseminating vital market access and launch data.
How can a bespoke digital tool streamline the pharma launch process? As one of our clients explains:
"Being a global company with quite a few products in the pipeline we have seen great benefit in the Launch Readiness platform developed in close collaboration with TRiBECA® Knowledge. Until today, our company have had numerous different local systems, so having one global approach has helped a lot in the efficiency and transparency of tracking and implementing launch activities locally as well as in headquarters."
Global Launch Manager
TRiBECA® Knowledge delivers bespoke digital tools for launch readiness and market access in pharma. Our tools are driven by your processes, to give you a tailored fit and support your efforts precisely where it is needed.