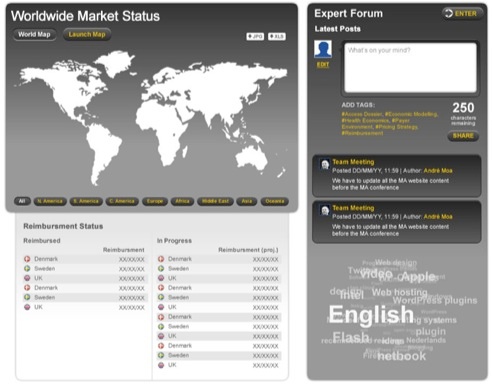 An effective market access toolkit needs to be a global resource that supports affiliates in their market access planning and execution, and helps address the challenges of an increasingly complex payer environment.
With the rise of the emerging markets, market access has become a truly global effort, with a need to manage data and knowledge across more diverse markets.
At the same time, pharma companies are dealing with increasingly complex (and diverse) reimbursement requirements as sophisticated value-based pricing models are being introduced. Overall, pharma companies must jump through many more hoops to ensure that their new product achieves reimbursement.
Yet for many pharma companies, their existing market access toolkits are not fit for purpose to meet these new and complex challenges.
So how can you tell if yours needs an overhaul?
There are two key areas in which market access can raise problems: visibility and alignment.
Visibility
It can be hard to gain a quick and up-to-date overview of where your global and local teams are with their market access activities and timelines. Delays that go unnoticed will stall your overall market access effort, potentially locking you out of markets where other products bypass you to launch.
Here are three signs that your market access toolkit is not providing the visibility you need:
1) You do not have a

clear roadmap

of who should be doing what when across global markets
To achieve this, your toolkit must facilitate both the market access planning and the tracking of the execution, thus turning the plan into a living entity that can quickly adapt and evolve with changes in the market environment. Clear responsibilities, therefore, need to be assigned for each activity and the wider team needs to have clear visibility of their responsibilities along with timelines.
2) You do not have

complete visibility

of market access activities and timelines across markets, brands and therapy areas
We often see global market access team members spending a lot of time gathering status updates of activities and timelines from each market team in order to then generate a consolidated view of worldwide status at any given time. Giving what are essentially admin duties to your highly qualified global team is not good use of talent. A good toolkit should automatically generate this dashboard view instantly whenever it is required and alert team members where there are risks of delays and potential problems.
3) Your toolkit does not help team members
prioritise
activities
Sequencing and prioritising activities is very important and if it's not done right, it can result in long delays. For example, there are always certain 'must haves' for gaining market access, yet staff can get distracted with 'nice to have' tasks, overlooking an essential step. As such, your toolkit needs to point people to the most urgent tasks at any given time; the showstoppers that, if left undone, will prevent you from gaining reimbursement.
Alignment
Using consistent processes is important – both to ensure there is a globally aligned strategy in place that is working and to ensure that your teams are being as efficient as possible.
Efficient processes make your launch process more agile, allowing you to adapt quickly to changes in the market without a huge overhaul.
Here are three signs that your market access toolkit is not providing the alignment you need:
4) You do not have a

consistent framework

and tool for market access embedded in the business across therapy areas
Many pharma companies are using sophisticated (and expensive) frameworks for market access, frequently developed by consultants. However, these frameworks are often not used consistently across brands or therapy areas. Sometimes, each therapy area or franchise has developed its own framework and tools. On other occasions, where there's meant to be a consistent framework in place, individual franchises, brands or even markets have a temptation to alter and adapt them, thus drifting away from the shared framework.
Using different approaches commonly leads to a duplication of effort and inconsistencies in data, formatting, documentation and reporting. Furthermore, with tools often developed in Excel and rolled out across markets, there is no way of tracking how these are being used.
We are not advocating a one-size-fits-all framework, but there needs to be an overall framework that is flexible enough to meet the very specific needs of each brand and therapy area while keeping processes consistent.
5) Your teams are not

sharing insights

on payers and the requirements of each unique reimbursement environment effectively across brands
When launching a new product you may need to adapt to changes in reimbursement requirements quickly. However, it is inefficient to simply duplicate information a team has already gathered, therefore sharing information between teams needs to improve. There is usually strong communication within teams, but not between different brands.
A bespoke tool can be tailored precisely to the way you want to share knowledge in the organisation. We have produced market access toolkits where countries have full visibility of each other's status, timelines and pricing, and are actively encouraged to talk to markets that share similar characteristics.
At the other end of the spectrum, we have delivered market access toolkits that focus purely on providing alignment between the global and local team effort, and visibility of status and activities across functional silos within a country, but not across countries. Your needs will be specific to your company, which is why we never recommend a one-size-fits-all solution – they just do not provide the level of tailored support you need.
6)

Your markets are duplicating effort

when localising value dossiers and submissions
Global value dossiers need to be disseminated efficiently across markets in a way that makes it easy for each market to leverage the global content and tailor it for the particular requirements of each market. Furthermore, additional research and writing conducted in a market needs to be shared effectively across markets so that others can benefit from this work and avoid duplicating research and writing effort.
An inefficient approach to market access that does not provide visibility of activities and progress, that does not guide people to focus on the most critical and urgent tasks in the execution, and that does not facilitate the sharing of insights on payers and payer environments, can delay, restrict or even prevent your reimbursement all together.
Download our free market access checklist today to see if your market access toolkit ticks all the right boxes.

TRiBECA® Knowledge delivers market access tools that are tailored to your needs, and meets your challenges head on.