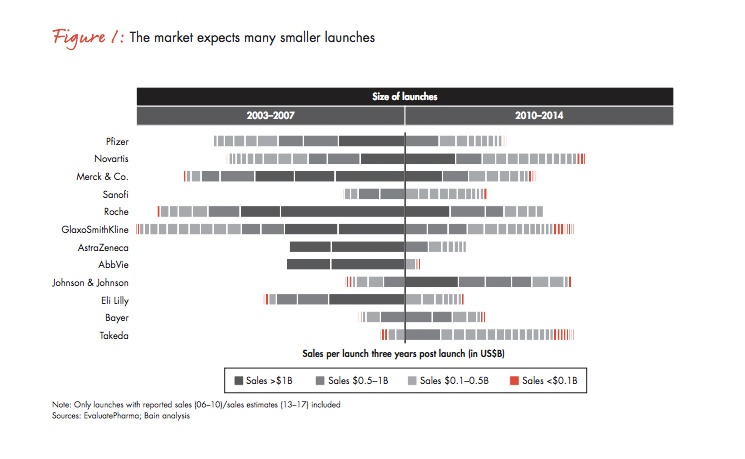 The commercial model in pharma has shifted in response to the end of the blockbuster era, the 'patent cliff', formidable competition from generics, rapid growth in emerging markets, and a new challenging and complex payer environment with increasing market access restrictions. Together, they have shaped a new paradigm of pharma launch readiness for an era where the blockbuster approach is no longer suitable.
As pharma companies are turning their organisations into 'launch factories' delivering smaller and more frequent launches in more markets, they need more agile, streamlined and collaborative tools for launch planning and tracking. The excel tools, traditionally favoured, simply do not deliver alignment, global transparency and speed to market when high quality executions are so critical.
Launch challenges in the new pharma world
This change in focus poses a host of new challenges for launch teams:
These challenges are a clear indication of a market that is demanding competitively priced products that can prove greater efficacy across more markets. In this new model it becomes essential to be the first to market with a better value product than what is already available.
Currently, 60% to 90% of pharma launches face access restrictions by demanding payers and governments due to a lack of perceived differentiation or cost-effectiveness. This just goes to show that if your competitor gets to market before you, you will lose out.
Changing your pharma launch readiness planning and execution
The new pharma launch model demands a new streamlined approach to planning and execution. Products need to reach more markets with increased speed and efficiently, necessitating closer global collaboration between regions, job functions and partner companies.
Sharing your global knowledge base across regions, people and companies will therefore be essential in order to develop effective and high-quality submissions, helping get your product onto the market before your competitors and with less access restrictions.
Clearly, all of these changes to the launch readiness planning model will require a solution far more specialised and robust than excel spreadsheets to tackle the key challenges of alignment, visibility and quality of execution.
TRiBECA® Knowledge delivers bespoke launch readiness tools for the effective planning and execution of global pharma product launches. They give launch teams the required visibility with intuitive dashboard views and data visualisation of real-time launch data.
They align global and local planning and execution. They streamline communication, collaboration and knowledge-sharing to improve the quality of execution. For more information about how TRiBECA® Knowledge can help your organisation, download our free guide: Your vital pharma launch readiness checklist or take a look at how we helped our global pharma client optimise their launch readiness strategy.
How do you think your pharma launch readiness planning and execution could be improved? Share your thoughts in the comments section below.