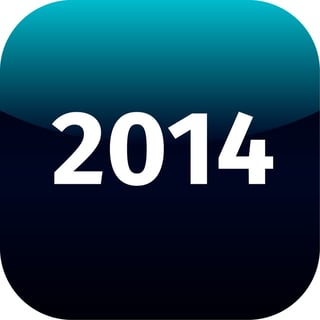 What trends are on the horizon for 2014? We look at the big upcoming issues and events and what they mean for pharma launch planning.

"Almost three in four companies believe their industry is in a strategic crisis."
Pharma's fight for profitability study, Ronald Berger Strategy Consultants, 2013
The pharmaceutical industry is still in transition as it is coming to terms with the end of the blockbuster era, the 'patent cliff', a new and challenging payer environment, the rapid growth of the generics and the opportunities the high-growth emerging markets bring.
1. Smaller, more frequent product launches with more access restrictions
We have already said goodbye to the golden era of 'blockbuster launches'. The FDA approved 27 new molecular entities (NME) in 2013, down from the 39 in 2012 - the highest level in a decade - but in line with the historical trend with an average of 28 first-of-a-kind drugs approved annually over the past five years. A third of these 27 new first-of-a-kind medicines were for rare diseases and niche medical conditions. The traditional blockbuster launch approach is not a suitable fit for these new medicines.
Beyond the 27 NME approvals, pharma companies launched a range of new products that were either reformulations, incremental modifications or new indications of existing drugs. According to Bain & Company, the most successful pharma and biotech companies are restructuring their organisations into launch factories capable of launching many products simultaneously, in response to the transition from launching one blockbuster every other year, to launching 5-10 smaller products every year signaling a need for greater market efficiencies. What's more, with the high-growth emerging markets expected to nearly double their pharmaceutical spending, adding $150-165Bn by 2016[1], pharma companies need to plan sychronised product launches across priority markets globally across very different reimbursement and healthcare systems.
With smaller, more frequent and often niche product launches kicking-off around the world, your launch process will need to become slicker and more efficient to ensure success.
This will involve seeking new processes and technologies to manage your product towards market and launch, including planning, strategising, and then tracking progress for a more streamlined and consistent approach.
2. 'Patent cliff' effects still felt
We're also still feeling 'patent cliff' effects that began in 2011 when major drug companies lost exclusive rights to many billion-dollar-selling drugs. In the US, 84% of the 4 billion prescriptions were for generic drugs rather than brand names.
By preparing for the fall off this 'cliff', generic pharma companies have been able to respond swiftly, growing rapidly in size and profit over the last two years. This growth will start to slow over the next few years as fewer blockbuster come off patent.
The knock-on effect of this 'patent cliff' is that blockbuster brands have seen their revenues drop significantly in recent years, and there is still a potential loss of over $230bn in worldwide sales from expirations by 2018. Not only that, we have seen tens of thousands of job cuts since 2012.
One way in which pharma companies have adapted to this new era of generics is to purchase biotec R&D companies and outsource their in-house R&D. This approach significantly cut costs and ensures the swift development of new drugs, speeding up the overall launch to market.
3. Value based pricing comes into full force
Value based pricing– setting price based on willingness to pay or perceived level of additional benefit - for drugs will come into force in the UK in 2014 and other countries are likely to follow. As communication between countries improves and health technology assessment (HTA) requirements increase, there will be more and more pressure on pharma prices. Payers are using improved communications for external reference pricing to benchmark the price for a new drug against its price in other countries. Similarly, HTAs are leading payers to demand even greater effectiveness, costs and broader impact of healthcare treatments.
Elements of VBP is already in use in a range of major markets including Canada, France, Germany, Italy, Japan, South Korea, Spain and in Scandinavia. Neil Grubert, VP of Global Market Access at Decision Resources explains: "Because there is such a wide range in the approaches to value-based pricing, it is important for pharmaceutical manufacturers to understand the exact requirements of each system at a very early stage in the drug development process. Errors in clinical trial design and endpoints could lead to market access delays and less advantageous pricing and reimbursement terms. Or, drugs could be excluded from reimbursement altogether."
The message from payers is loud and clear:
Give us new medicines that are clinically and economically better than what's already available.

Give us medicines that decrease mortality or morbidity, make the care pathway more efficient or reduce the total resources a patient consumes.

Give us hard, real-world data to back up your claims.
They want more value for money. They are measuring the value they get carefully. They will not pay huge sums for medicines that offer only incremental improvements in outcomes.
Getting your medicine reimbursed before the competition is therefore more important than ever, as they will in many cases be assessed against you. In this new diverse and complex payer environment, your launch process and tools need to help you manage your global knowledge and your launch activities efficiently to ensure your medicine benefits the patients as early as possible.
4. A focus on building stronger payer relationships
In the cost-constrained healthcare environment that has emerged over the last 10 years, the payer has become the key customer in many pharma markets. Because of this, we're seeing critical local, regional and national payer networks emerge. In many cases, these relationships overlap with clinical experts in making key decisions on the use of new medicines. Defining who the payer is and their decision making process is harder than ever before. Ensuring strong relationships with these multi-level payers has never been more important.
As Ash Rishi explains in his Reading Room blog: "Real success in the pharma industry has to be built on trust and personal relationships, as much as pushing out sales messages. Anyone can offer those, but the winners are going to be those who extend a 'warmer' touch".
This means that now, more than ever, you need to manage relationships and messages. Internal and external communication with your organisation and customer contact points has to sync with the overall launch readiness process yet still feel personal. This is particularly important when dealing with payers. These are the gatekeepers to the market and they are growing in power and they increasingly communicate and share price, efficacy and research across borders.
Identifying how these payers and policy makers are assessing value is key to market access. It is essential, therefore, to engage with these gatekeepers to identify and understand the performance measures that matter to them. If you can use communication to build real lasting relationships with payers to demonstrate the benefits of your new product, then your brand is more likely to be at the forefront of their minds when making purchasing decisions.
5. Increased collaboration to cure diseases
Following a fairly quiet 2013, mergers and acquisitions are forecast to pick back up in 2014 with lots of smaller acquisitions anticipated in order to hedge against potential disappointments in product launches and R&D. What's more, collaborative partnerships between pharma companies will help the development and launch of important new medicines. By sharing knowledge, resources and experience in different functions and regions, pharma companies can cut costs and time to market while mutually benefitting from co-promotion.
Growth in the pharma industry will always mean seeking out the most profitable and efficient way of bringing product to market. This means working together where it makes sense. But as new teams merge and collaborate, it is essential that launch readiness processes are transparent and consistent across brands, functional areas, regions and external partners.
Predictions for phama product launches in 2014
The coming year will see smaller and more frequent product launches with more access restrictions as payers demand substantial improved value to medicines already available. Increased external collaboration combined with a focus on high-growth emerging markets will make managing global activities and knowledge more important than ever.
If 2013 was about tinkering with your launch readiness framework, 2014 should be about having the right tools in place to achieve alignment between global and local, visibility across regions and functional areas, and improved planning and execution. This will help you apply your resources more efficiently and optimise your launch readiness to get to market before the competition.
What key pharma trends do you predict will emerge in 2014? How do you think they will change overall launch readiness? Share your thoughts in the comments section below. Or for more information on how to optimise your launch strategy, download our free guide below: Your vital pharma launch readiness checklist.
---
[1] IMS Institute for Healthcare Informatics, 'The Global Use of Medicines: Outlook Through 2016' (July 2012). P. 20