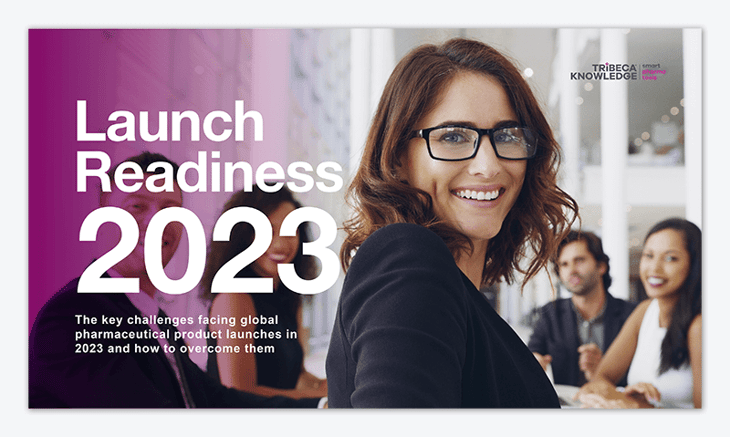 In our latest report, Launch Readiness 2023, we look at the prospects and challenges for new medicines entering the market in the shadow of COVID-19. We consider the state of the launch pipeline, where opportunities are ripe for launch excellence, and how companies can best negotiate the many market-access challenges further complicated by COVID-19 and its legacy effects on healthcare systems. We explain how digital transformation and agile launch software can help companies track, manage and align their launch activities in real-time, across functions and markets.
The world may not have shrugged off the threat of COVID-19 and its multiple variants entirely yet. In most parts of our lives, though, and in many parts of the world, we are behaving as though the pandemic is firmly under control. Nonetheless, the economic, cultural and logistical disruption brought by COVID-19 has cut deep, particularly in terms of remote working and digital communications. This applies equally applies to the launch readiness environment for new medicines in 2023 and beyond.
All of these issues will be on the pharmaceutical industry's mind as it surveys the pharma product launch landscape during the year ahead. There are already some disconcerting indications that the pace of new drug approvals in the key US and European Union markets is slowing, even as the increasingly important Chinese market rapidly gains traction on marketing authorisations and launches alike. The reasons for the decline in FDA and EMA drug approvals are unclear. It could just be a blip on the radar.
On the other hand, it may signal a return – and particularly in the US ̶ to a more cautious regulatory stance following the relatively permissive climate for accelerated approvals of groundbreaking or high unmet-need medicines in recent years. The potential impact on drug pricing of the Biden administration's Inflation Reduction Act could be another factor contributing to the lag in 2023 FDA approvals, if companies start to hesitate about the attractions of the US as a first-launch market.
That was implicit in Citeline Pharma Intelligence's list of new active substance (NAS) launches in 2021, in which China accounted for 19% of all first-market debuts compared with just seven in 2020. More broadly, Citeline's analysis suggested that the launch environment – along with research and development pipelines that continue to deliver the goods – still has plenty of space left for innovation. It tracked a total of 97 NAS launches in 2021, a substantial improvement on the previous high of 82 in 2020.
All the same, innovation always comes at a cost, and market access conditions for new medicines are not getting any easier. In our latest report, Launch Readiness 2023, we consider some of the reasons why companies now more than ever need to ensure that new product launches are primed and polished to offer sustainable, meaningful and measurable value to a broad range of healthcare stakeholders.
This includes the potential for cost offsets, quality-of-life gains or other value components that will ultimately ease pressures on healthcare systems. Otherwise, the COVID legacies of depleted funds, lengthening waiting lists and overstretched healthcare capacity will inevitably result in even tougher conditions for new medicines in 2023 seeking liberal market access and commercially viable reimbursement.
The orphan-drug boom may have peaked
Pharma market access and launch management will be further complicated in 2023 by the continuing market shift towards premium-priced speciality drugs, and particularly targeted therapies for rare diseases that build lucrative franchises by stacking up successive indications for the same product. There are hints, though, that the orphan-drug boom may have peaked, especially as increasingly prevalent neurological conditions such as Alzheimer's are at last seeing some hope of disease-modifying treatment.
Another COVID-19 legacy highlighted by IQVIA is that the whole nature of the patient journey has changed. This is not just about backlogs in diagnosis or treatment but represents a fundamental shift in relationships and interactions between the pharmaceutical industry, healthcare professionals and patients. Today's patient pathway is "lengthier, leakier, and more complex" than ever, as IQVIA puts it. Companies need to rethink their launch framework and promotional mix if they are to regain the momentum lost to COVID-19 and related constraints.
All the same time, the fundamentals for successful pharmaceutical product launches in 2023 remain in place. These include dynamic growth in companies' R&D pipelines last year, at around double the pace seen in early 2021. And there are plenty of potential blockbusters still coming out of those pipelines.
Moreover, and despite the continuing impact of COVID-19 on healthcare funding, Evaluate Pharma is forecasting a compound annual growth rate (CAGR) of 6.1% for worldwide prescription drug sales between 2021 and 2028, even though it warns of a massive patent cliff looming for research-based medicines post-2028. A more conservative forecast from IQVIA sees the global market for medicines delivering a CAGR of 3–6% in 2023-2027. This is without, however, factoring in incremental spending on COVID-19 vaccines and therapeutics.
These are all good omens. But pharmaceutical innovation and opportunities for growth need to be substantiated by improved agility and effectiveness in product launch plans and their implementation. In Launch Readiness 2023, we consider how launch strategists may best navigate this fast-changing yet still fertile environment. We show how digital transformation and cutting-edge launch management software can help companies with tracking status of launch activities and managing global launch challenges, in real time and across business functions and countries.
Read our updated report to understand how global product launches in pharma are adapting to the post-COVID environment and addressing the many challenges they face in doing so. Then discover how SmartLaunch™ ̶ our agile launch software ̶ can help you drive agility, transparency, efficiency and collaboration across your launch teams, to make 2023 another banner year for launch excellence.