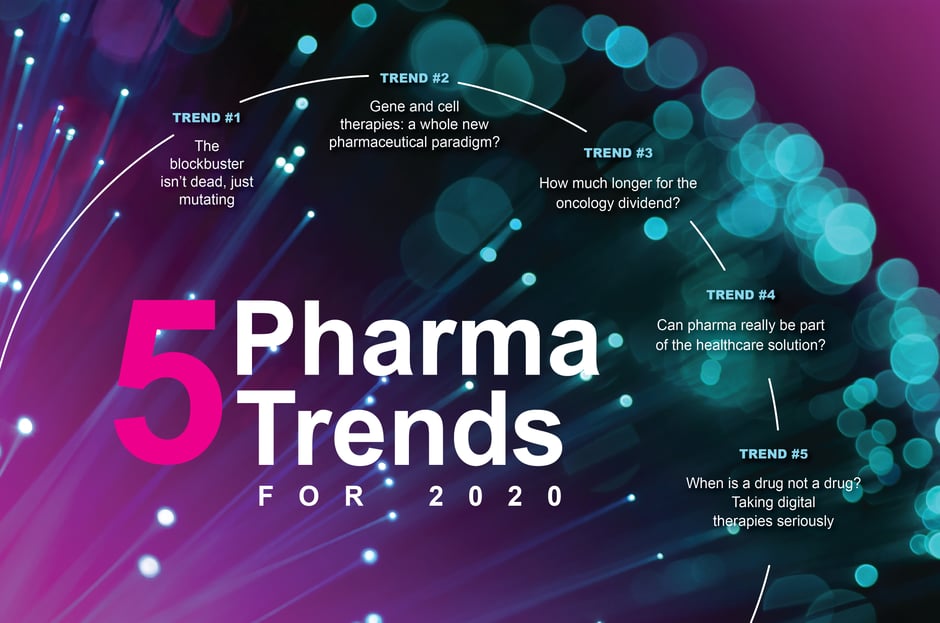 For all its reliance on innovation as a business driver, pharmaceuticals is a traditionally conservative industry that advances by small and careful steps. As we map out some of the dominant pharma trends for 2020, perhaps we should also reflect on what 'innovation' actually means, what its value is, and what it costs.
Incremental innovation has served the industry well over the years, as the commanding market presence of blockbusters such as AbbVie's Humira (adalimumab) illustrates. In a fast-paced digital world, however, innovation is more inclined to be disruptive. But how much disruption does the industry really need or want? And can society keep pace with the changes?
5 Pharmaceutical Industry Trends for 2020
Trend #1. The blockbuster isn't dead, just mutating
Not even the big beasts are immune from extinction – or, at least, from rapid decline. AbbVie's Humira (adalimumab) used to be the undisputed king of drug blockbusters, running up sales of $19.9 billion in 2018. Now, though, biosimilar competition in Europe is starting to bite, and even continuing strong growth in the US cannot halt the inevitable slide in revenues.
According to recent forecasts by GlobalData, Merck & Co's cancer immunotherapy Keytruda (pembrolizumab) will outpace Humira as the world's top-selling drug in 2023, notching up annual sales of $22.2 billion by 2025. In the third quarter of 2019, AbbVie reported worldwide net revenues of $4.936 billion for Humira, down by 3.7 percent on a reported basis against the same period of 2018. But the real hit was in international markets, including Europe, where year-on-year Humira revenues fell by 33.5% to $1.049 billion. In the US, conversely, net revenues rose by 9.6% to $3.887 billion.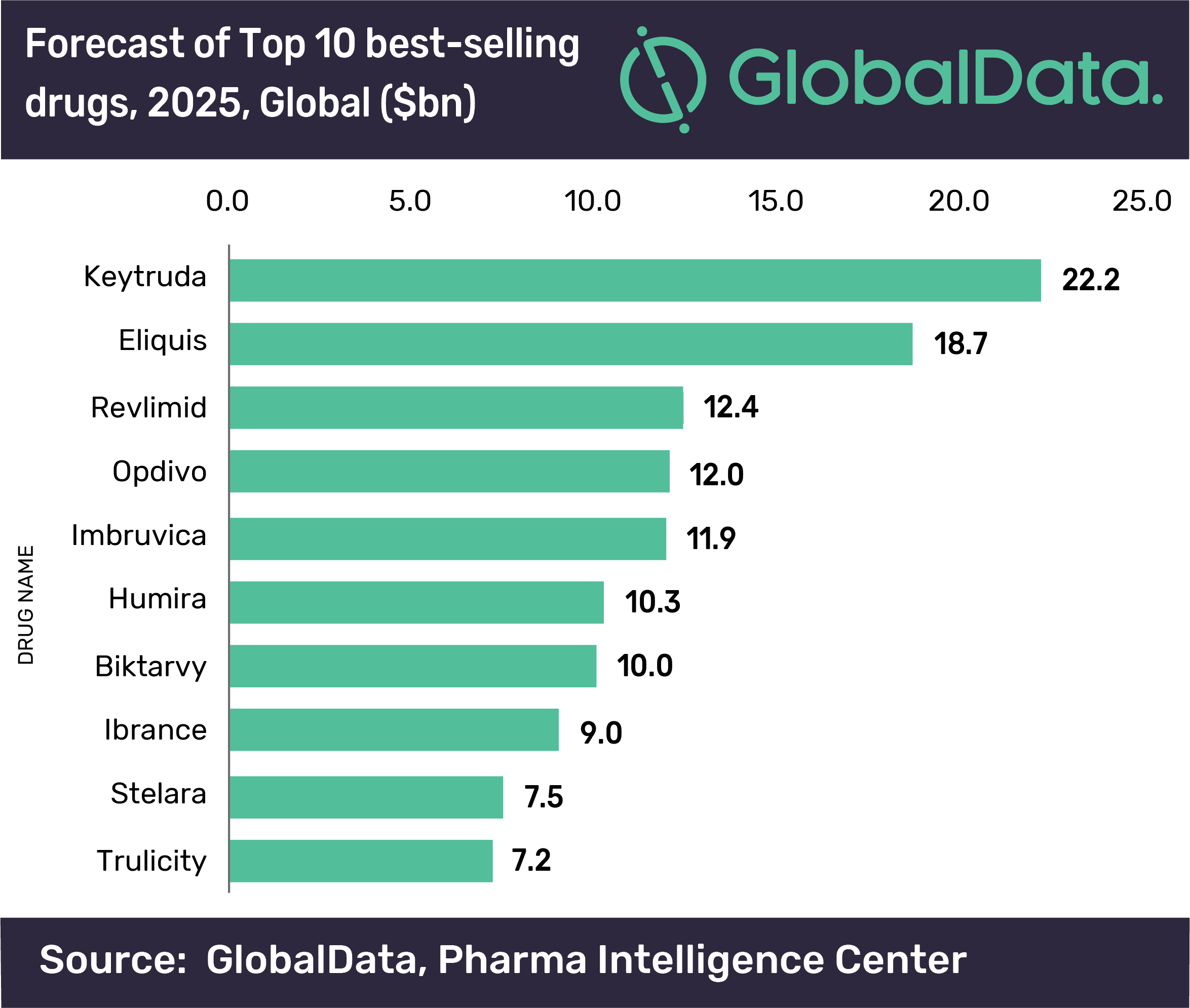 Source: Pharmaphorum
Humira has enjoyed a remarkable run, all the same. It was first approved in the US in December 2002. Nor is it time yet to start pronouncing the death of the blockbuster. Any species needs to adapt to survive. From today's perspective and pharma industry trends, Humira already looks like something of a bridge between old- and new-style blockbusters, no matter that it is a premium-priced biologic available for multiple indications.
Market-access restrictions have not stemmed the flow of blockbusters. Rather, the route to blockbuster status has changed. Arguably, it has split into two parallel paths. One is the precision medicine that targets a rare disease (particularly in oncology), and then builds on common characteristics to leverage the underlying scientific insights across a multitude of new indications.
Humira is approved for 10 indications in the US, but one of those is huge: moderate to severe rheumatoid arthritis. According to GlobalData, sales of rheumatoid arthritis therapies are set to reach $28.5 billion in eight major markets by 2025. But Keytruda has already chalked up more than 20 oncology indications in the US, covering the spectrum from melanoma to lymphoma, gastric, lung, cervical and liver cancer, and beyond.
The second, more radical path is gene or cell therapies, where the target is also rare disease but the path to commercial success is the promise of a 'one-shot' therapy at a huge upfront cost. It remains to be seen whether this strategy can ride out concerns over pricing, reimbursement and affordability, not to mention long-term safety and efficacy (see below), and become a core blockbuster engine in the foreseeable future.
Nonetheless, Cortellis included two gene therapies ̶ Novartis/AveXis' Zolgensma (onasemnogene abeparvovec) for spinal muscular atrophy; and bluebird bio's Zynteglo (LentiGlobin/ betibeglogene darolentivec) for beta-thalassaemia in transfusion-dependent patients ̶ among seven potential blockbusters in its Drugs to Watch report for 2019. These were new products expected to enter the market during 2019 (Zolgensma secured US approval in May 2019, Zynteglo conditional EU approval in June 2019) and to achieve sales of at least $1 billion by 2023.
Patently obvious
Something else Humira has on its side is a seemingly impenetrable wall of patents in the key US market where it makes so much of its money. While biosimilar versions of high-priced biologics are increasingly prevalent worldwide, Humira has proved remarkably impervious to biosimilar incursion in the US, where follow-on versions of biologics have been slow to take off.
In European markets it is already subject to multiple biosimilar challenges, having lost patent protection there from October 2018. In the US, on the other hand, legal settlements with various biosimilar contenders mean that biosimilar competition will not kick in until 2023.
This is a pharma trend to ponder as evidence emerges in the UK that the US administration has been pushing not only for higher drug prices in the NHS (National Health Service) but for longer patent terms on US medicines. It is hardly news that US interests would lobby for extended intellectual property protection in trade negotiations abroad, especially with President Trump attacking drug prices at home. Moreover, it is debatable whether a post-Brexit NHS would just cave in to US-style drug pricing, even under a Trump-friendly Conservative government led by Boris Johnson.
Nonetheless, the Humira case raises questions about how blockbusters will get their sustenance in a payer-driven market, where spiralling healthcare costs keep drug prices and monopolies in the firing line. Agile and effective lifecycle management will remain fundamental to long-term commercial viability in the pharmaceutical market.
Among the reigning trends in pharmaceutical industry challenges, we are already seeing much more extensive requirements for post-marketing surveillance as a trade-off for faster or conditional regulatory approvals of medicines. Meanwhile, pricing and reimbursement systems, and the companies they negotiate with, continue to grapple with the complexities of squaring cost, value, affordability and access within the confines of top-down drug budgets.
Those challenges demand a consistent supply of real-world data on product and patient outcomes to support whole-system value propositions. While electronic medical records, claims data, patient registries or advanced analytics make this possible, many barriers remain to identifying, tracking and rewarding outcomes in ways that ensure engagement from all affected stakeholders.
A pharmaceutical product launch is often the culmination of years of strenuous effort and investment, in which the vast majority of drug candidates fall by the wayside. But in today's environment, the launch is really just the start of an extended in-market process, whereby both product and brand value need to be continuously re-assessed and re-affirmed.
That means blockbuster launches to come, however spectacular, must be built to last in ways that go beyond patent defences, market exclusivity, line extensions, brand loyalty or aggressive contracting. Healthcare and drug value is subjective, conditional and circumstantial.
Nowadays, blockbusters must offer truly breakthrough innovation that justifies sometimes unnerving prices. That may come with or without a strategy of precise segmentation, promising better patient outcomes while maintaining a consistent and cumulative revenue flow. Flexible lifecycle management, real-world data, and a willingness to embrace risk-sharing or other forms of performance-based reimbursement, are part of the deal. The blockbuster is still very much with us, but not by staying the same.
Trend #2: Gene and cell therapies: a whole new pharmaceutical paradigm?
After a great deal of hype and debate, gene and cell therapies are truly upon us, as a meaningful commercial proposition and a radical new approach to treating – and potentially curing – diseases.
The market entry of these therapies also tells us that truly ground-breaking innovation creates significant challenges, both for the pharmaceutical industry model and for health systems shouldering the costs of disruption. Those challenges are not only financial but political, cultural, scientific and logistical.
The turning point for this new breed of medicines was really the launch in January 2017 of Biogen's Spinraza (nusinersen) to treat spinal muscular atrophy. Flash forward to late 2019, and several gene and cell therapies are now available, including:
Even allowing that these are treatments for very limited patient populations, the elephant in the room is still price. Not only are these 'one-shot' therapies, predicated on potentially eliminating disease. In addition, facilities offering cell or gene therapies may face substantial additional costs acquiring the equipment, personnel and expertise to administer these products safely and effectively.
However much these prices are justified by the difficulties of developing, manufacturing and scaling up gene/cell therapies, upfront costs are what health systems have to deal with. These systems, moreover, are used to employing 'buy-and-bill' strategies, managing both diseases and budget planning with medicines that spread costs over a course of treatment. Consequently, some manufacturers and payers are testing the waters with novel financing mechanisms to take the sting out of gene/cell therapy pricing.
In the US, for example, Novartis is experimenting with outcomes-based contracting for Kymriah and has offered payers a five-year instalment plan for Zolgensma. Spark has introduced a rebate-based model for Luxturna that tracks outcomes over 30 to 90 days, and then 30 months. A performance-based agreement is in place for Kymriah in Italy, while in Germany Novartis secured an outcomes-based deal with a group of health-insurance providers. In England, the NHS settled the issue by agreeing significant (but undisclosed) discounts for coverage of both Yescarta and Kyrmriah.
The debate around accommodating gene/cell therapies within current modalities of healthcare practice, delivery and payment has really only just begun. In the US, the Institute for Clinical and Economic Review acknowledged the difficulties ahead promising a unique framework for evaluating "high-impact single or short-term therapies". This would include flexible scenarios to address existing uncertainties over the durability, as well as the long-term safety and effectiveness, of gene and cell therapies.
In the meantime, more than 300 such therapies are in the drug development pipeline, with some 30 in late-stage clinical trials. As in other areas of rare-disease R&D, oncology indications predominate. The expectation is that more than 50 gene/cell therapies will reach the market by 2020, a game-changer that has not escaped the notice of Big Pharma.
Astellas recently agreed to buy gene-therapy specialists Audentes Therapeutics for around $3 billion. Although Astellas paid a 110% premium on the Audentes share price, analysts said this was in line with other large gene-therapy acquisitions, such as Novartis' $8.7 billion agreement to take over gene therapy company AveXis in April 2018; and Roche's still-pending $4.3 billion buy-out of Spark Therapeutics.
Going wider
Gene-therapy costs, value and access could become even more contentious if developers and manufacturers widen their sights to more common diseases. Health systems that are prepared to take a hit, or negotiate agreeable payment terms, for high unmet-need, rare-disease populations might pull down the shutters if those costs threaten to multiply significantly.
As Vinie Varkey, senior analyst at GlobalData, commented: "While monogenic rare diseases are the obvious first-to-go choice … targeting more frequent diseases will need a holistic approach in order to address a wider mechanism of action. If gene therapies for frequent diseases do become available, then that will … test the ability of healthcare organizations to adapt [to the] high price points of these therapies."
Another lingering question, as we contemplate the emerging trends in pharmaceutical industry strategy, is whether the pharmaceutical industry is ready to embrace such a dramatic change in its business model. Industry has long relied on the long game of incremental innovation: step-by-step improvements that keep R&D efforts and revenue streams replenished with some degree of predictability. If gene/cell therapies really promise something approaching a cure, how does industry keep on selling a cure, other than coming up with another one or breaking into new markets?
Perhaps some of the emerging concepts mooted for financing gene and cell therapies, such as annuity payments or pay-for-performance schemes, will end up parcelling out costs, risks and revenues in ways not so far divorced from the established model for chronic-disease treatments: ongoing, cumulative revenues and costs throughout the lifespan of the disease or the patient. But all that is yet to come.
(article continues below)
Trend #3: How much longer for the oncology dividend?
Trends in drug discovery, development and commercialisation come and go. One category that seems to just carry on growing, though, is oncology.
Innovation continues to replenish R&D pipelines in the already busy oncology space. This is not just a function of demographic shifts and pharmaceutical trends such as the advances made by precision medicine in cancer.
Oncology pipeline growth also reflects the persistence of unmet needs in the category. And it is encouraged by a lucrative business model. This involves the rapid accumulation of narrow, highly targeted drug indications with common underlying mechanisms, buoyed by orphan-drug incentives. How longer a payer-oriented market can continue to absorb industry's strong emphasis on premium-priced oncology products, though, is open to question.
As the IQVIA Institute for Human Data Science notes in Global Oncology Trends 2019, a record 15 new oncology therapeutics covering 17 indications were launched for the first time in the US during 2018.
In the same year, worldwide expenditure on all medicines used to treat cancer rose by 12.9% over 2018 to reach nearly $150 billion, marking the fifth consecutive year of double-digit growth for the segment. That growth was driven entirely by therapeutic medicines, where spending increased by 15.9% year on year.
This is perhaps less startling if we consider that populations around the world are rapidly ageing while unhealthy lifestyles proliferate – both key risk factors for cancer. According to the World Health Organization, there were an estimated 18,078,957 new cases of cancer worldwide (excluding non-melanoma skin cancers) in 2018, and 9,555,027 people died of cancer. By 2040, the WHO predicts, the worldwide incidence of cancer is likely to reach 29,532,994.
Emerging cancer therapies continue to unlock unmet needs, as precision medicine – among the most significant new trends in pharmaceutical industry R&D – powers a commercial model based on detailed segmentation and rapid accumulation of new indications. As IQVIA points out, biomarkers that stratify responsive patients are now found in 39% of oncology trials, up from 25% in 2010.
Merck & Co.'s Keytruda, identified earlier as a new-generation blockbuster, has netted more than 20 approved oncology indications in the US. Recently, 'tumour-agnostic' cancer drugs such as Bayer's Vitrakvi (larotrectinib) and Roche's Rozlytrek (entrectinib) have taken this evolution a step further. As IQVIA comments in its , segmentation is "now almost always the future for Launch Excellence, because regulators and payers are seeking certainty of superior outcomes and on budget impact".
Cost sensitivity
On top of that, cancer still has something of a privileged status, at least in countries that can afford to treat it with some diligence. That goes for societal and political perceptions, as well as the distribution of costs and resources that proceed from those perceptions.
A perhaps less evolved cost sensitivity is reflected in premium pricing of therapies such as Keytruda. Merck & Co.'s product launched in the US at a list price of $150,000 for a full course of treatment, or $12,500 a month. The new CAR-T cell therapies Yescarta (axicabtagene ciloleucel) and Kymriah (isagenlecleucel) (see above) have topped that with sticker prices of £373,000 and $475,000 per patient.
As IQVIA points out, the average annual cost of new oncology drugs "continues to trend upward, although the median cost dropped $13,000 in 2018 to $149,000, and cost per product ranged between $90,000 and over $300,000". Moreover, outlays on cancer medicines are "heavily concentrated, with the top 38 drugs accounting for 80% of total spending".
Cost sensitivity in oncology is hardening, all the same. Countries and payers around the world are implementing or discussing innovative pricing and reimbursement mechanisms, such as pay-for-performance schemes or indication-specific pricing, that more accurately capture the real value of new cancer drugs used in multiple contexts.
Cancer therapies targeting unmet needs are more likely to benefit from accelerated-approval procedures. This puts additional pressure on health systems to agree value-driven contracts on the basis of preliminary evidence with the launch of a new product, then adapt them as real-world data and outcomes flow from in-market experience.
Doing so, however, requires investment in infrastructure, data-sourcing/analysis and system integration, as well as agreement on suitable endpoints and how to measure them. That is even more complicated when the tendency – and another driver of cost inflation – is to use newer cancer therapies, such as immuno-oncology drugs, in combination.
Regardless of the benefits of precision medicine in clarifying cost-benefit equations and informing more rigorous budget planning for oncology products, some payers may opt for tried and tested strategies such as formulary exclusions, budget ceilings or higher patient co-payments to drive prices down or secure generous rebates.
In the meantime, the pharmaceutical industry continues to pile up its bets on oncology. As Pharmaprojects details in its Pharma R&D Annual Review 2019, the cancer drug pipeline swelled by 9% to 5,697 active compounds this year. That was far ahead of other go-to categories such as neurologicals, alimentary/metabolics or anti-infectives. Cancer accounted for a 35.2% share of all drugs in development, up from more than a quarter in 2010.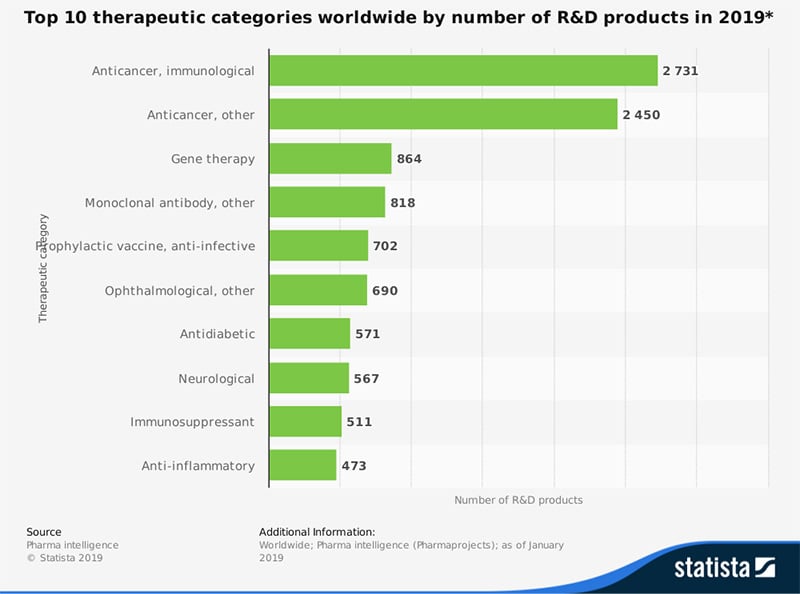 Source: Pharmaceutical Processing World
Faced with a cancer diagnosis, most of us would like more time, better quality of life, or preferably both. But as other age-related diseases start to make enormous and competing demands on health and social-care funding, perhaps the pharmaceutical industry needs to ask itself: can the oncology dividend really keep paying out?
Trend #4: Can pharma really be part of the solution?
Our fourth entry in the pharmaceutical industry trends 2020 involves a concept pharmaceutical companies have been talking about for some time, but without making too much headway. Could 2020 be the year for a decisive shift away from transactional relationships with health systems, and towards positioning the industry as a healthcare-solution provider?
As things stand, companies still have difficulty shaking off the perception that what they essentially do is develop and market not entirely safe and effective new medicines to stave off disease at some considerable cost to health payers. Of course, there are already a number of arguments against that characterisation. Advances in areas such as molecular and cell biology, genomics and proteomics, biomarkers and bioinformatics, have done much to revitalize pharmaceutical innovation and launch readiness while delivering safer, more effective precision medicines.
Companies are leveraging digital technology and data analytics to build new relationships with patients, both in clinical development and the marketplace; to feed-back information to patients, doctors or payers on treatment adherence, disease progression or lifestyle adjustments; or to argue for more cost-effective patient pathways and treatment strategies. They are entering into risk-sharing or performance-based reimbursement schemes that emphasise value to the patient and wider health system over the long term.
All the same, this still looks too much like scratching the surface. As we noted in our discussion of gene and cell therapies, there remain a number of practical, logistical, technical and cultural barriers to implementing innovative financing models that enable payers to monitor and respond to real-world drug value. Indeed, the whole notion of value-based healthcare, while undoubtedly attractive, is a big ask that could take years to achieve critical mass.
In its recent report Driving the future of health, PwC's Strategy& team predicts that by 2030, healthcare will revolve around "patients empowered to prevent diseases rather than seek treatment. They will receive personalised health solutions in ways that are integrated seamlessly into their daily lives". All of this will be "enabled by data and algorithms, and provided within a healthcare system that is organised and regulated in an entirely new way", PwC contends.
That shift requires transformation at all levels of healthcare systems, the report says. "There will be less emphasis on treatment and care, and more on prevention, diagnostics, and digital solutions, such as mobile apps, smart monitoring devices and artificial intelligence-enabled analytics tools".
Technology companies, with their extensive expertise in data and analytics, are better equipped than pharma to drive these changes. This poses a significant challenge to the drug industry and "could create a future marked by lower margins", PwC warns. Nonetheless, there remain "significant opportunities for biopharma if it is prepared to move strategically into new value pools such as diagnostics, prevention, and digital health solutions".
There is certainly awareness of the need to "reimagine the future of healthcare", as the report puts it. In a PwC survey of biopharma executives, 96% of respondents fully or partially agreed that future would be "people-driven (with individuals increasingly managing their health themselves), preventive, personalised, digital, integrated into daily life, and enabled by new regulatory, organizational, and business models".
As many as 68% of respondents expected this scenario to be the norm in major healthcare markets by 2030, while 75% saw the future of healthcare as an opportunity for biopharma if the sector were willing to disrupt itself. But although 85% of survey respondents had some or all of the key elements for this future on their corporate agenda, only 25% were taking a holistic approach to the challenge.
Encouraging signs
As ever, there are encouraging signs from the big players. In a recent interview with pharmaphorum's Deep Dive magazine, Michael Goetzl, managing director UK & Ireland at Roche Diabetes Care, described how the company wants to be the leading provider of more holistic "integrated diabetes management solutions".
That entails moving away from a solely product-oriented approach, and towards a solutions-oriented strategy that supplements pharmaceutical intervention with software, hardware and digital services. As Goetz pointed out, this mirrors what is already happening in diabetes management. "People will use whatever technology they can – from apps to online services and smart devices – to gain more control over their disease," he commented. "If you only have one kind of product, you are not fitting into that market."
For PwC, industry simply cannot afford not to embrace these opportunities, and the sooner the better. "Knowledge is one thing, but time is running short for companies to define a comprehensive strategy so that new value pools can be captured while they tackle the challenges of a changing healthcare environment," it maintains in Driving the future of health. "The future of healthcare is coming, and it's not a matter of whether, but when, the sector will be disrupted."
Trend# 5: When is a drug not a drug? Taking digital therapeutics seriously
It hardly needs restating that the existential threat to the pharmaceutical industry's traditional business model is real and very much present. Much of that is coming from digital disruption, with its quicksilver creativity, blue-sky thinking, freedom from legacy, and dizzying pace of technological change.
One area in which the threat looms directly is the recent emergence of prescription digital therapeutics such as Pear Therapeutics' reSET, approved by the US Food and Drug Administration in September 2018 for patients with substance use disorder; or WellDoc's BlueStar, a digital-support system for type 2-diabetes management first cleared by the FDA in August 2010. Notably, reSET was the first time the FDA had authorised a Prescription Digital Therapeutic carrying claims to improve the clinical outcomes of a disease.
The range of potential indications in which digital therapeutics (DTx) could be used to prevent, treat or manage medical conditions is vast. The very nature of these programmes, though, means they may have particular applications in chronic diseases such as diabetes, mental-health problems (e.g. anxiety, depression), neurological disorders (e.g., dementia, Alzheimer's disease), hypertension, obesity, substance abuse or congestive heart failure.
Selected Digital Therapeutics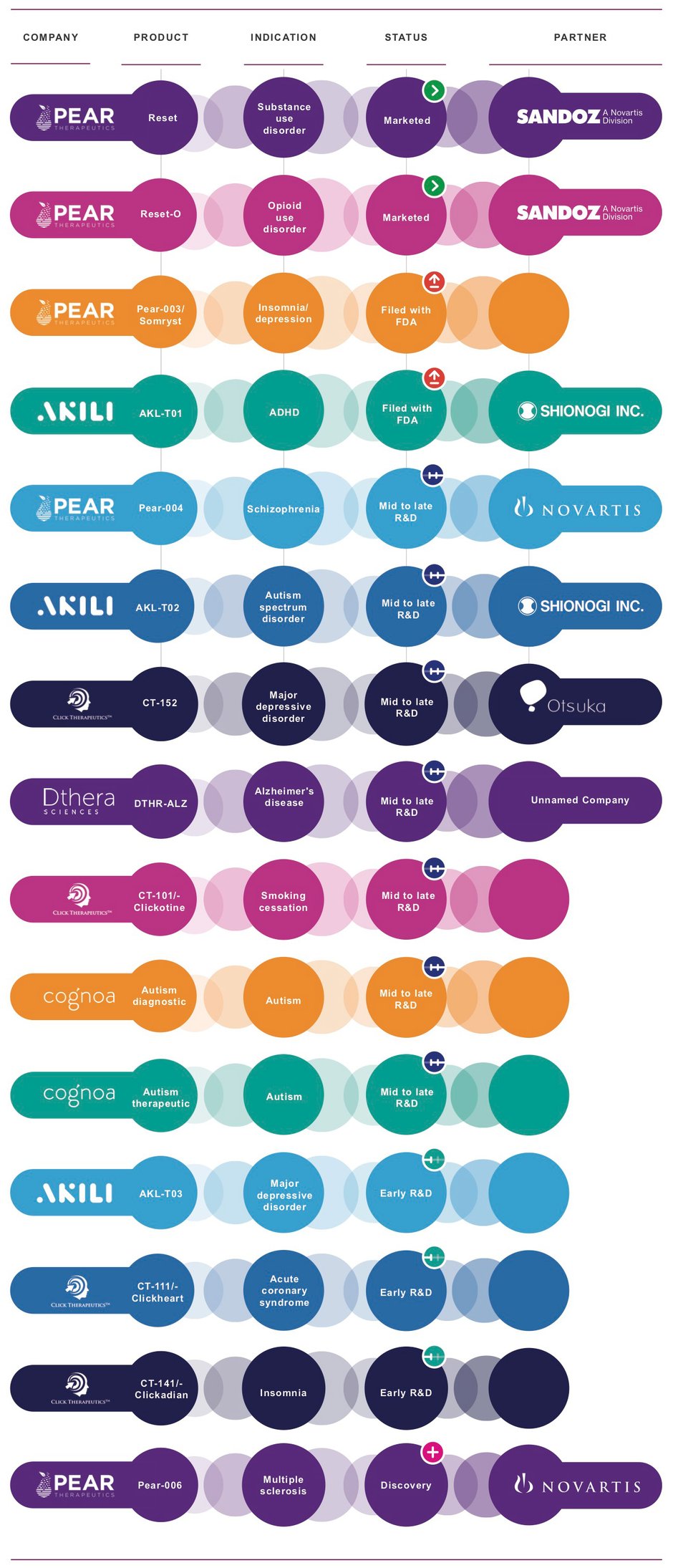 Source: Evaluate
So far, digital therapeutics remain a broad church, with varying approval pathways, and prescribing channels, notes the IQVIA Institute for Human Data Science in its Launch Excellence VI white paper. Moreover, reimbursement provisions for these software-driven, evidence-based therapeutic interventions are still at the tentative stage.
As IQVIA points out, WellDoc secured reimbursed access to BlueStar for employees of several leading companies by emphasising the programme's potential to cut the costs of diabetes management. In the UK, digital therapeutics delivered via IQVIA's own digital therapeutic-agnostic portal, AppScript, are being funded in parts of the National Health Service.
GlobalData believes current limitations on DTx reimbursement by public and private health insurers are a significant barrier to broader uptake. Nonetheless, it suggests, these products are addressing unmet need for patient-centred and value-based care with the promise of reliable, evidenced-based, on-drug interventions.
Pill-plus technologies
It seems unlikely, at least in the foreseeable future, that digital therapeutics will substitute on a one-to-one basis for established medicines bolstered by years of evidence from controlled clinical trials. Nonetheless, as 'pill-plus' technologies, networked with other components of treatment, they may offer pharma a platform for the kind of holistic health offering it aspires to.
Digital therapeutics have the added advantage of a built-in data flow that can provide real-time insights into patient behaviour and outcomes – just the kind of value proposition pharma and biophama hope to cultivate. And from a cost-benefit perspective alone, DTx may prove hard to ignore.
An IQVIA analysis, for example, suggests that if the NHS in England used clinically validated digital-health apps in five patient populations where they have reduced demand on acute care services (diabetes prevention, diabetes, asthma, cardiac rehabilitation and pulmonary rehabilitation), this could save £170 million per year while improving health outcomes.
In other words, among the more urgent challenges facing the pharmaceutical industry 2020, companies should be treating digital therapeutics as something potentially more substantial – and disruptive – than the latest iteration of 'an app for everything'. Once again, though, this calls for concerted out-of-the-box thinking.
As IQVIA cautions in Launch Excellence VI, the current market for DTx is not yet global, with different countries "at quite different stages of development". Moreover, the sector cannot truly evolve without new infrastructures for prescribing, reimbursement, delivery and.
"In short, creating new markets is a lengthy process, requiring activities and investments over and above the established challenges of Excellent Launch," IQVIA concludes. But then, isn't creating new markets what real innovation is all about?
Challenges and solutions
We have looked at five compelling trends with potential to reshape an increasingly unsettled pharmaceutical market in 2020 and beyond. Each of these trends carries with it new challenges for the pharmaceutical industry's business model, and for launch excellence specifically.
In such a fast-changing, complex and disruptive environment, companies must be better equipped than ever to ensure products launch with the maximum possible impact. That impact has to be sustainable across different markets and healthcare settings, as well as throughout the product lifecycle.
The unique SmartLaunch™ SaaS solution (software as a service) has been designed by TRiBECA® Knowledge specifically for managing pharmaceutical new product launches. It brings together the entire launch team, across countries and workstreams.
Having a collaborative Launch Management Platform, such as SmartLaunch™, in place will go a long way towards making launch excellence one constant in a climate where change is always the refrain. SmartLaunch™ is a SaaS (software as a service) solution designed specifically for managing pharmaceutical new product launches. It brings together the entire launch team, across countries, management layers and workstreams.
Global and country dashboards provide full visibility of status across all your workstreams.

Global and country launch plans are aligned and integrated in one single tool. The nested launch plans ensures that interdependencies between global and country activities and across workstreams are managed carefully.

Teams can collaborate through commenting, discussions and file sharing directly at milestone and activity level.

Systematically capture key learnings throughout the launch cycle to drive improvements and better informed decisions in future.

New countries, brands and indications can be activated at the touch of a button, ensuring that your launch tool evolves with your pipeline.
TRiBECA® Knowledge is a market leader in smart business tools that help pharmaceutical, biotech and medical device companies successfully launch and commercialise products. Our tools enhance visibility and transparency, streamline processes and drive communication and collaboration across brands, management layers, business functions and countries worldwide.