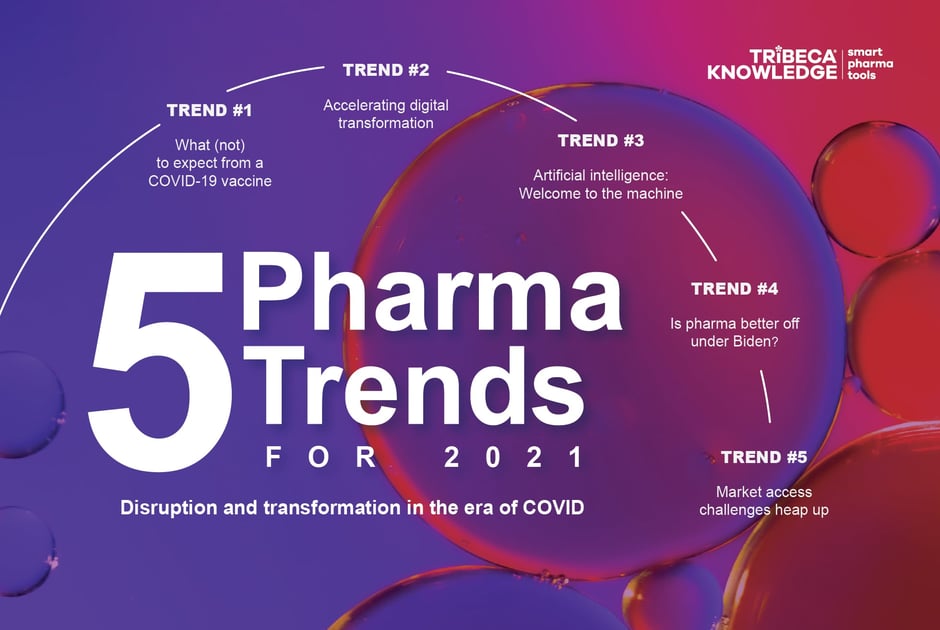 The COVID-19 pandemic has eclipsed every other development in healthcare and pharmaceuticals during 2020. It will likely do so next year as well. Looking ahead to 5 pharma trends for 2021 that will set the agenda for industry, it is hard to escape COVID-19 both as a challenge and a spur to new directions.
The prospective pharmaceutical industry trends we identified in late 2019 were all pre-COVID, even if they continue to unfold. The first reports of confirmed COVID-19 infections did not emerge until January 2020. We are now living with a pandemic. That could remain a core driver of healthcare need and demand for many years to come.
COVID-19 is also a transformational moment for the pharmaceutical industry. It has forced companies to re-examine, at multiple levels, the way they do business. Many of those changes may ultimately prove difficult to reverse. At the same time, the world desperately needs effective COVID-19 vaccines and treatments. That puts industry, long regarded with suspicion by much of the general public, in a unique position to lead by example.
Pharmaceutical Trends for 2021
Trend #1. What (not) to expect from a COVID-19 vaccine
Probably the most immediate impact of the coronavirus pandemic on the pharmaceutical industry, and the network of scientists supporting it, has been to turn the spotlight on vaccines. More than 200 vaccines are already in development for COVID-19 worldwide, with 47 of these in clinical development and 10 in Phase III clinical trials.
A vaccine for COVID-19 is unlikely to eliminate a virus whose origins, immunological effects, mutability and longevity remain uncertain. Vaccines rarely, if ever, confer total immunity against any disease. Nonetheless, they represent the best chance of bringing COVID-19 under control without repeated recourse to lockdowns and other economically, psychologically or socially destabilising restraints.
Among the 10 candidates with the best chance of making it through approval and into the market, the mRNA-based coronavirus vaccine under development by Pfizer and BioNTech (BNT162b2) has emerged as a frontrunner after showing 95% efficacy in a Phase III trial, as well as more than 94% efficacy in participants over 65 years old.
By the third week of November, Pfizer had generated the necessary safety data to apply for emergency-use authorisation by the US Food and Drug Administration and other regulatory agencies. Another US company, Moderna, released interim Phase III efficacy data on its own mRNA vaccine candidate (mRNA-1273) in mid-November. The independent Data Safety Monitoring Board for the Phase III trial found mRNA-1273 94.5% effective at preventing COVID-19.
These contenders have been ramping up vaccine manufacturing while negotiating supply agreements and flexible pricing arrangements around the world. The hope was that the first US vaccine approvals might come through in the first half of December. The UK has already given fast-track approval to Pfizer's vaccine and is preparing to roll it out.
Of course, there was already an approved vaccine for COVID-19 - or at least in Russia, which waved through the Russian Direct Investment Fund/Gamaleya Institute's Sputnik V adenoviral vaccine in August 2020, before Phase III trials had been completed. Despite international concern at what was seen as reckless fast-tracking for political gain, the Russian health ministry has claimed over 90% effectiveness for Sputnik V.
The other seven vaccine candidates in Phase III trials are:
University of Oxford/Astra Zeneca:

AZD1222 adenovirus-vector vaccine (

pending approval submissions

)

CanSino Biologics/Beijing Institute of Biotechnology: adenovirus-vector vaccine
Beijing Institute of Biological Products/Sinopharm: inactivated-virus vaccine
Sinovac Biotech:

CoronaVac inactivated-virus vaccine

Wuhan Institute of Biological Products/Sinopharm: inactivated virus vaccine
Janssen Pharmaceutical:

26.COV2.S

adenovirus-vector vaccine
Novavax: NVX-CoV2373 prefusion-protein vaccine
The speed with which vaccine candidates have advanced from laboratory to clinic is undoubtedly impressive, as is the preliminary efficacy shown by both Pfizer's and Moderna's vaccines. That leaves a number of questions unanswered, though, such as whether regulators should waive rigorous assessment of safety and efficacy in favour of getting potentially life-saving vaccines out to populations in dire need.
Despite overt political pressure from President Trump (followed by claims that Pfizer's vaccine data were held back to avoid giving him an election boost), the FDA has insisted on two months' median follow-up safety data, along with minimum vaccine efficacy of 50%. It was adamant that regulatory corners would not be cut.
The European Medicines Agency, has not set a minimum efficacy requirement and is conducting rolling reviews of COVID-19 vaccines on a case-by-case basis. At the same time, the UK government, for example, has amended an existing regulation to permit temporary authorisation of vaccines or medicines for COVID-19 in extraordinary circumstances, pending the grant of a full licence. The Pfizer/BioNTech's mRNA vaccine was approved for emergency use in the UK on the 2nd December 2020.
Whenever effective vaccines for COVID-19 do start filtering out, there will still be difficult decisions to make and hurdles to cross. These include capacity to meet international demand; distribution and logistics challenges such as cold-chain storage; affordability and availability, especially in developing countries; financial responsibility for population coverage; liability indemnity for manufacturers and distributors; and compensation schemes for patients experiencing adverse effects.
What is already clear is that vaccine distribution in most countries will be staggered, with priority given to particularly vulnerable or essential groups such as the over-75s, residents and workers in care homes, chronic-disease patients or frontline healthcare staff. That could take us well into 2021 before comprehensive inoculation programmes are in place.
Among other unresolved issues are how durable available immunity will be, whether one vaccine will be enough, whether vaccine candidates can prevent viral transmission, and what happens with reinfection or viral mutation. Then there is a quite substantial hard core of anti-vaxxers, COVID deniers, sceptics or people worried about side-effects. A recent global survey by Ipsos and the World Economic Forum found a marked decline in vaccine confidence, with only 73% of respondents in 15 countries willing to take a vaccine for COVID-19.
The rush to market with a viable COVID-19 vaccine is in many respects an example of what the pharmaceutical industry and its research base do best: leveraging innovation, expertise and resources competitively to tackle a critical public-health challenge. Of course, companies also have a financial stake in beating that competition.
Even if potential margins on a COVID-19 vaccine are constrained by complexity of development and production, challenges with distribution or the need for affordable tiered pricing, the volumes required will be enormous, coupled with the relative stability and predictability of secured contracts for mass supply. Just the corporate-branding, profile-raising and reputational benefits of delivering a safe and effective vaccine could be considerable.
But credit where credit is due. The pharmaceutical industry and research institutes have stepped up to the plate. Just don't expect miracles when the first vaccine for COVID-19 hits the market.
Trend #2. Accelerating digital transformation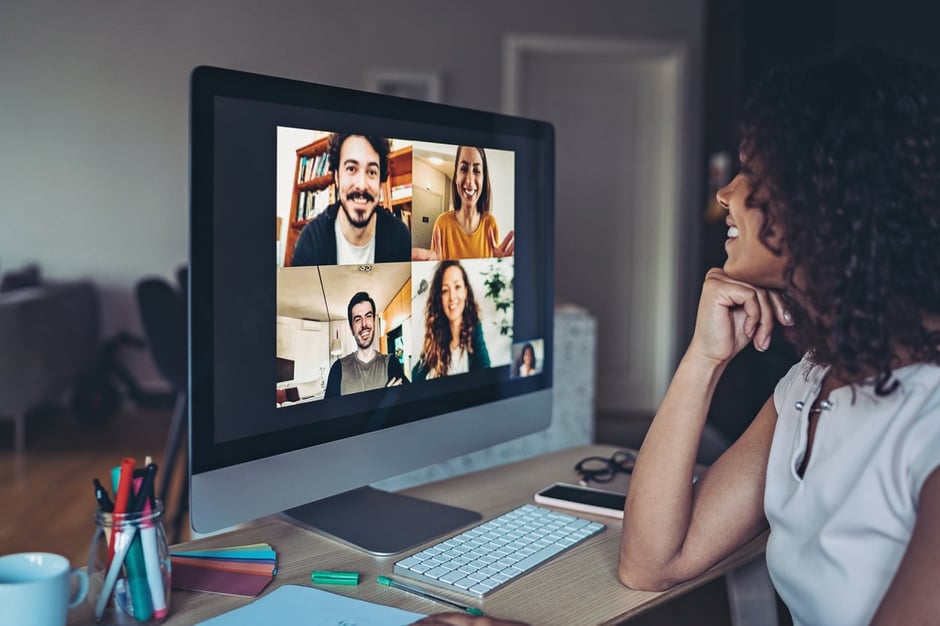 Digital transformation in the pharmaceutical industry was already happening before COVID-19 shook the world to its foundations. The combination of fast-moving, consumer-driven technology and a relatively sluggish, conservative industry, accustomed to a tight regulatory grip, sometimes made for uneasy bedfellows. But pharma recognised that the digital revolution was here to stay and, in a data-rich industry, offered considerable benefits.
Under pandemic conditions, many of the industry's core activities had to move abruptly into the virtual sphere. If working remotely has brought its share of frustrations, it has also significantly accelerated adoption of digital technologies and media, both within the pharmaceutical industry and in the healthcare systems it serves.
This shift is likely to have far-reaching consequences for trends in pharmaceutical industry operations, even once the smoke starts to clear from COVID-19. Companies only need look at what is happening in other parts of the healthcare system, where digital leaders such as Amazon, Google and IBM are seizing opportunities to develop virtual platforms for personalised patient communications.
The global pandemic has lent additional impetus to patients' growing familiarity with, and use of, digital technologies in managing their health. According to a Medisafe/Dynata survey of 2,000 US consumers in July 2020, 37% were using more digital technologies, while 42% had turned to digital health for the first time.
As Matt Longman, marketing communications manager for Medisafe, a US company specialising in digital medication-management platforms, noted during a recent webinar, patients like the rapid response rate of digital tools, their ease of use, and the opportunity to access more personalised care. In the survey, 60% of respondents said they would continue using digital tools post-COVID.
These trends have clear implications for pharma's business model and interactions with key stakeholders. The challenge for industry is how to insert itself productively into these changing relationships.
Pharma needs to capitalise on digital's potential for real-time data generation, building more holistic, patient-oriented value into tailored products and services. At the same time, it must avoid flouting restrictions on direct-to-patient promotion of medicines, or undermining the traditional role of healthcare professionals as patient confidants and gatekeepers to care.
HCPs may value digital tools as a way of overcoming physical barriers to interaction (especially under COVID-19), broadening the healthcare conversation, facilitating information flow with patients, encouraging treatment adherence, or enabling informed self-management of chronic diseases. Nonetheless, these tools are about augmenting, not replacing, existing relationships, stresses Dr Daniel Sands, chief medical officer at Medisafe.
Health remains "an analogue process", and "we still need the human touch in there", he told the webinar organised by Medisafe on COVID-19 and digital health. Not all patients are engaged, empowered or enlightened; some may not be comfortable with digital technology, and some may not own smartphones or have easy internet access.
This is something for pharma to bear in mind, and not just in relationship to patients. However much digital can achieve in facilitating or broadening interaction, there will still be situations, personalities or cultures where building trust requires face-to-face contact.
It may not be time yet to start putting traditional field forces out to pasture, for example. But reps can undoubtedly enhance relationships, and cut to the quick of interaction, by using the digital tools and media at their disposal, particularly in view of time pressures on HCPs, the growing complexity of speciality medicines, and tighter restrictions on pharma's promotional activity.
The range of possibilities offered by digital technology in pharma is vast. Just a sample might include:
Apps, portals, websites, gaming platforms, embedded sensors, wearables or other digital tools for patient support and education, relationship-building, data exchange, medication adherence, monitoring of health indicators or disease progression, and accumulation of real-world evidence.

Cultivating patient-centricity and informed self-management of disease.

Gaining insights into patient characteristics, preferences and responses that help to personalise healthcare and

therapeutic interventions.

Streamlining, targeting and optimising pharma R&D through advanced analytics.

Leveraging big data internally and externally to create, demonstrate and maintain value.

Expanding and enriching

communications

with HCPs and other key stakeholders.

Enabling virtual detailing, information provision, relationship-building and other sales force activities restrained by reduced access to HCPs.

Digital therapeutics as alternatives or supplements to mainstream pharmaceutical intervention.

Software platforms to improve launch management and execution through improved visibility, collaboration, alignment, flexibility or targeting of ground-level activities.




Rethinking the business model
In a pandemic-constrained environment where established business practices are turned on their head, pharma is already embracing digital more proactively as a vehicle to maintain information flow, communication and awareness. With sales forces off the road, medical conferences shuttered, and face-to-face contact with HCPs severely limited, for example, multi-media digital communications and messaging across the stakeholder spectrum have come increasingly to the fore.
COVID 19 has forced pharmaceutical companies to think more creatively and flexibly about how their business model can accommodate new constraints such as home working, travel bans, supply-chain bottlenecks, marked slowdowns in clinical-trial recruitment, diversion of healthcare funds and resources, and closer scrutiny of drug reimbursement as pressure mounts on healthcare budgets.
The annual round of leading medical conferences, a crucial platform for delivering clinical-trial updates and solidifying relationships with key opinion leaders, has adapted swiftly to online formats. Justifying the costs and organisational challenges of these large physical meetings may be harder to justify in a post-COVID world.
Something along similar lines may occur with clinical trials, one of the pharma activities hit hardest by the pandemic. Increased data availability and liquidity, as well as digital tools such as remote-monitoring devices, have already opened up possibilities for virtual clinical trials with a stronger emphasis on real-time patient-reported outcomes.
Not all of the current restrictions are necessarily an open door for digital. Old habits and vested interests die hard. Pharmaceutical companies and their digital partners must not only demonstrate measurable value to customers from shifting to digital products and services, but also make sure that value results in real systemic change.
The failure of Proteus Digital Health's sensor-equipped 'smart pill', Abilify MyCite, to make meaningful headway in schizophrenia was a sobering reminder that innovation per se may not always be as transformative as we would like to think. All the same, digital is gathering pace in pharma, even if it lags more consumer-driven industries (e.g., banking, retail) where digital has completely overturned expectations about how goods, services and customer relations should be managed.
If it recognises the long-term value of digital disruption hastened by the extraordinary circumstances of COVID-19, pharma could well emerge more efficient, agile, switched-on and invested in innovation at all levels.
Trend #3. Artificial intelligence: welcome to the machine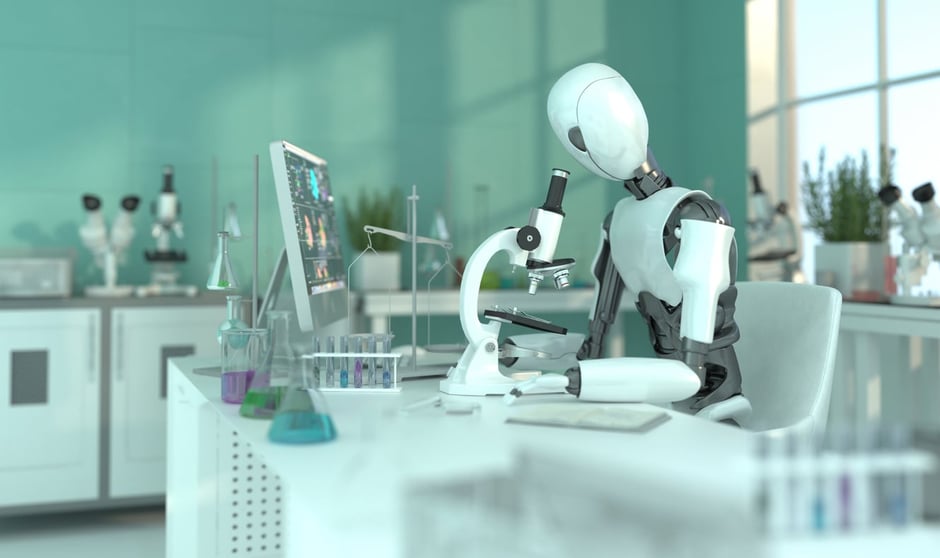 As in the wider digital universe, the most striking features of the emerging landscape for artificial intelligence are speed of technological evolution and the range of potential applications. Those applications relate directly to industry processes and activities (particularly in R&D), or indirectly to the broader healthcare environment, where AI has inescapable implications for the way pharma operates.
It is debatable whether that pace of change is matched by uptake that recognises AI's full potential to facilitate or accelerate innovation, efficiency or access to care. Many healthcare systems and pharmaceutical companies, though are already forging ahead with AI initiatives.
As the Boston Consulting Group points out, there are three main drivers for AI in healthcare:
Mounting pressure to contain or reduce costs and improve outcomes

The explosion in available health data, including genomic analyses, electronic medical records, and information from monitoring devices such as wearables

Advances in digital software and hardware that enable those data to be leveraged in new, powerful ways.
BCG predicts that expenditure on AI-related tools will exceed US$8 billion annually by 2022 across seven segments of the healthcare chain: remote prevention and care; diagnostics support; treatment pathways and support; drug discovery and development; operations; sales and marketing; and support functions. That forecast includes a projected US$1.3 billion spend on AI-related drug discovery and development tools by 2022.
BCG envisages pharma gaining significantly from AI-driven efficiency improvements in R&D, sales, marketing, and manufacturing. It also sees ancillary benefits for technology companies active in pharmaceuticals, as algorithms for target identification, lead optimisation or clinical-trial recruitment become more ingrained R&D processes.
At the same time, concerns persist about issues such as data privacy/security and upfront costs. In a KPMG study of AI adoption in healthcare, 37% of healthcare-industry executives felt the sector was implementing AI too slowly. Yet 54% believed AI had so far increased rather than reduced the cost of healthcare, while 75% were concerned that it could compromise the security and privacy of patient data.
This suggests AI in healthcare has some bedding-in to do, for all its recognised utility across functions ranging from earlier diagnosis of disease to process automation in areas such as patient screening and records management. In the KPMG study, 89% of healthcare-industry respondents said AI was already improving system efficiencies and 91% felt it is was increasing patient access to care.
AI adoption in the broader healthcare environment presents both opportunities and challenges for pharma. Earlier and more precise diagnosis of disease could lead to more timely therapeutic intervention with better targeted medicines.
Machine learning insights into patient pathways should help identify where and how pharma can offer products and services that deliver precision medicine and patient/system-oriented value through improved outcomes. Data-mining of patient records promises to enhance understanding of diseases, rapidly identify suitable patients and investigators for clinical trials, and inform more viable, innovative study designs.
Holding onto value
BCG has warned, though, that if pharma and related industries really want to reap the dividends of AI, they need to make sure value does not migrate too much to healthcare stakeholders interested primarily in keeping drug costs down. It suggests moving quickly to leverage internal efficiency gains from AI in areas such as R&D or sales-force management, while accelerating 'beyond the pill' strategies to limit loss of value from reduced drug utilisation enabled by AI.
It is clear that some pharmaceutical multinationals, such as Novartis, AstraZeneca, Boehringer Ingelheim and Johnson & Johnson, have already taken these messages to heart. These companies have built up a solid portfolio of AI projects in R&D. Companies including Amgen, Pfizer, Novartis, Sanofi, GlaxoSmithKline and Merck have partnered with AI start-ups to look for new drug candidates across a range of diseases.
The full scope of AI in pharma goes much further than boosting R&D efficiency and productivity, though. AI-driven analyses have numerous applications in the commercial sphere, from tracing the customer journey to anatomizing previous marketing campaigns, segmenting doctors or other stakeholders for customised sales messaging, or mapping the sales landscape to optimise rep placement and sales strategies.
In many other areas, AI can enhance planning and implementation to ensure faster, more efficient processes with less susceptibility to human error, duplication or waste, such as manufacturing or quality control. The question is how much of this pharma wants to take on, and how quickly.
That will depend to some degree on addressing and resolving concerns and complications around AI. These are not just about data privacy/security and human resources, but regulation, liability, internal resistance, skills and training, employment impact, data and other integration issues, or building clinical evidence of AI effectiveness.
AI is only just starting to make waves in pharmaceuticals and healthcare. With COVID-19 demanding out-of-the-box thinking and prioritising speed and efficiency across both of these sectors, though, we will see a lot more of AI among the emerging trends in pharmaceutical industry strategy during 2021.
Trend #4. Is pharma better off under Biden?
Donald Trump may have shrugged off COVID-19 personally, but the virus got to him anyway. It looks as though the pandemic's devastating impact on the US population, under Trump's distinctly lax stewardship, was pivotal in undermining his chances of a second presidential term.
As of late November, there were nearly 13 million recorded cases of COVID-19 in the US, with a death rate of nearly 263,000 nationwide. An analysis by McKinsey & Company in September 2020 estimated that for every million people seeking treatment for COVID-19 in the US, the health system would incur around $5.3 billion in direct costs.
Moreover, McKinsey suggested, the effects from deferred or cancelled care due to COVID could push annual healthcare costs up by $30-$65 billion, while a potential 50% increase in mental health conditions (e.g., anxiety, depression, substance abuse) could mean $100-$140 billion in additional spending during the first 12 months after the pandemic hit.
It also leaves incoming President Joe Biden with an unenviable task on his hands. The pandemic puts massive and lasting pressure on a US healthcare system that the current administration singularly failed to reform, despite campaign promises and Congressional efforts over the last three-and-a-half years. Trump was still trying to have the Affordable Care Act (or Obamacare) repealed through the US Supreme Court as he refused to cede the presidency in mid-November.
Biden will be taking a very different approach both to COVID-19 and to healthcare in general. He started in early November 2020 by announcing a Covid-19 task force, comprising former government health officials, academics and medical experts.
As one of the architects of the Affordable Care Act, Biden stood on a platform of affordable healthcare for all. He may now move to expand Obamacare, so that it covers currently uninsured Americans as well as more of the elderly or low-income population. In that respect, Bidencare could deliver a boost to at least part of pharma's US business, if only in volume terms.
What may not be so different from Trump is Biden's attitude to the pharmaceutical industry, often on the receiving end of the Trump's tweet-happy offensives. Like Trump, Biden has been associated with proposals for external reference pricing in Medicare Part B.
On 20 November 2020, Trump announced two long-promised final rules that would:
Apply a 'Most Favored Nation' strategy to 50 expensive medicines administered under the Medicare Part B benefit (e.g., cancer drugs infused in doctors' offices and hospital outpatient departments). Prices of these medicines would be tied to the lowest paid for the same drug in other industrialised countries with more stringent price controls.

Change the way US hospitals and doctors are paid for administering Medicare Part B drugs, in an effort to eliminate incentives for use of higher-cost products.

Remove 'safe harbor' protection from rebates given by pharmaceutical companies to pharmacy benefit managers

to secure formulary placement under Medicare Part D. Rebates could now be subject to federal 'anti-kickback' legislation, unless they were passed on to Medicare patients as point-of-sale discounts.


Pricing in Medicare's retail prescription-drug programme, Part D, is already subject to competitive negotiations between private payers and pharmaceutical companies, based on levers such as formulary placement, discounting, rebates or step therapy. However, there is talk of Biden extending external reference pricing to Part D medicines.
Whether any of this gets as far as approved legislation will depend partly on whether Congress remains split between Republicans and Democrats. Biden's Democrats held onto a reduced majority in the House of Representatives, whereas in early December the Republican-dominated Senate was still in play
Drug-price controls under Trump have been something of a bipartisan issue. However, Democrats and Republicans confronted with aggressive drug-pricing reforms in the House and Senate may end up voting more along traditional party lines.
Other than external reference pricing and passing on rebates in Medicare Part D, the Trump administration has toyed with a whole range of initiatives to tackle pharmaceutical cost inflation. It has made some headway with these plans, such as legalising state-level programmes to import prescription drugs from lower-cost countries such as Canada. Since July 2019, list prices for drugs covered by Medicare or Medicare and costing $35 or more must be disclosed in DTC television adverts.
Moreover, in late October 2020 the administration issued a final rule on price transparency for drugs covered by private health-insurance plans. Under provisions scheduled to take effect from 2022, health insurers would have to give plan members access to real-time price information on covered medicines, and to estimated out-of-pocket costs including deductibles and co-payments.
The final rules issued on 20 November were a last-ditch attempt to make good on Trump's anti-pharma rhetoric as part of his first-term legacy. However, the price-control and rebate measures face legal challenges from the pharmaceutical industry and pharmacy benefit managers, respectively.
They could also be rejected, amended or repealed by an incoming Biden administration, unless it opted to retain or consolidate Trump's price controls and other restraints on commercial practices in the pharmaceutical market. Stock analysts believe the final rules have little chance of coming into play.
For the time being, at least, the need to focus intensively on battling COVID-19 might also keep any drug-price proposals on the back burner. And the successful roll-out of a safe and effective vaccine for COVID-19 could give pharma's battered reputation a significant lift, both in the US and globally. Pharma may even find itself better off under a Democratic administration, regardless of any historical precedent.
While government scrutiny of industry practices will not evaporate under Biden, particularly with the huge costs of managing COVID-19, a less overtly populist administration may at least be prepared to make a balanced assessment of the industry's benefits and deficiencies.
Trend #5. Market access challenges heap up
Whatever the pharmaceutical industry does, in the end it all comes down to market access. That is both a global issue and a critical component of national, regional or local healthcare environments.
Companies need a physical presence in the marketplace and the ability to drive uptake at remunerative and sustainable cost.
Without those fundamentals, innovation, expertise, investment, and strategic planning will generate neither commercial gain nor better outcomes for patients and healthcare systems.
Market access will continue to be a primary concern for pharma throughout 2021. Barriers have been piling up for years now, as populations age, chronic diseases flourish and healthcare costs escalate worldwide. COVID-19 has only magnified cost pressures and brought large-scale disruption to healthcare systems and the pharmaceutical industry.
Here are some ways in which the pandemic may introduce or exacerbate market access challenges in 2021 and beyond:
Reduced staffing and travel at pharma companies will dilute resources for managing, communicating and promoting drug launches

.

The global economic downturn and accompanying share-price erosion will impair pharma's ability to fund R&D or commercial activities and to generate revenues in some markets.

Border closures and shortages of raw-materials or active pharmaceutical ingredients will

m

uddy the pathway from manufacturing to market.

Stockpiling of medicines or restricted patient access to pharmacies or clinics may further complicate the supply chain.

Different national approaches to pandemic management will widen existing market-to-market discrepancies.

Pharma companies need to make sure COVID-19 vaccines are not seen as a first-world privilege, leaving less developed countries marginalised in supply contracts.

Additional strain on healthcare budgets and resources could prompt drug-pricing reform, more stringent health technology assessment (HTA) and tighter restrictions on reimbursement, at least for non-COVID treatments.
Impact of Covid-19 on the Pharma Value Chain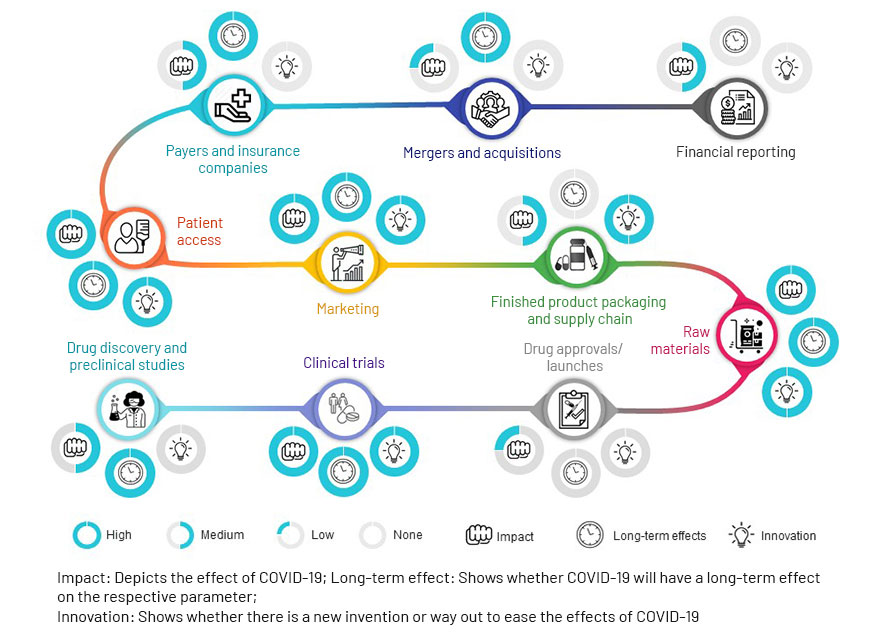 Source: Acuity Knowledge Partners
Market access consultancy Inbeeo envisages long-term effects from re-allocation of HTA resources to technologies addressing high unmet need, as payers face pressure to manage cost inflation through prioritisation. Inbeoo also points to renewed discussion around alternative pharmaceutical pricing models, such as cost- and value-based pricing and compulsory licensing. It foresees market access advantages, though, for technologies that reduce care burdens on hospitals buckling under the strain of COVID-19.
An international payer survey by ZS Associates has estimated potential pandemic-related delays to HTA appraisals at anything from three to 7.5 months. It is also clear, notes health economist Leela Bareham, that funding for healthcare interventions will become tighter than ever. "Companies were already hard pushed to show the value of their treatments, and there is going to be no let up on this," she insists.
All the same, some basic principles may prevail in value assessment. At a virtual conference organised by eyeforpharma, Robert Dubois, chief executive officer of the US National Pharmaceutical Council, commented: "We'll still look at the cost of a treatment or a vaccine compared to the benefits, broadened to include how it could help loosen social restrictions."
DuBois also suggested that productivity benefits might come increasingly to the fore during and after the pandemic. At the same conference, though, Sarah Emond, executive vice president of US HTA body the Institute for Clinical and Economic Review, proposed that industry might think about decoupling COVID-19 vaccines and therapies specifically from the need to recoup R&D investment, since incentives for innovation were self-evident in this context. She also warned that COVID-19 product developers needed to think about global cost impact.
"This is especially important because value assessment frameworks are typically used in developed nations with significant healthcare budgets, but here we need to send treatments and vaccines to the entire world," Emond said. "Many countries do not have huge healthcare budgets. So, affordability is going to be a really important part of this conversation."
Perhaps more encouragingly for industry, England's globally recognised National Institute for Health and Care Excellence recently launched a public consultation as part of a major review of how it assesses the cost-effectiveness and value of health technologies. This will consider in particular the challenges posed by advanced interventions that disrupt treatment and reimbursement paradigms, such as gene and cell therapies.
Among other proposals, the consultation asks whether additional factors should be incorporated into NICE evaluations, such as severity of disease or impact on health inequalities. It also suggests updating and clarifying NICE's methods for sourcing and reviewing the evidence base for technology evaluations, with more emphasis on non-randomised controlled trials and real-world data.
These developments suggest the long-term impact of COVID-19 on market access trends 2021 could be mixed, albeit tending towards the negative. For treatments and vaccines specifically targeting coronavirus, the route to market is already being facilitated as a matter of urgency.
This is an ever-changing, complex and highly disruptive environment, in which COVID-19 is acting either as an accelerator or an aggravator. The virus has added a new layer of uncertainty to timelines and outcomes in the HTA, pricing and reimbursement procedures that stand between regulatory approvals and market entry. A digital tool such as as SmartAccess™ can help to manage these shifting timelines more efficiently, while providing real-time visibility of pricing, reimbursement or HTA timelines and status.
As we have outlined in this blog, 2021 presents pharmaceutical companies with significant challenges and options that stem both organically from market developments over the last few years, and unexpectedly from a global pandemic that has made both healthcare systems and industry adjust their priorities and refresh their thinking.
Companies seeking market access now need to be better equipped and informed than ever before, if they want to ensure their products launch and are taken up in the marketplace with the maximum possible impact.
That means having the right digital solutions to maintain alignment across the board on launch and market access plans and execution. A 360⸰, real-time view of progress and challenges from market to market will help to ensure that 2021 is not just about overcoming COVID-19, but about taking full advantage of the opportunities presented by new technologies, political change, evolving relationships or unmet needs for sustained innovation and growth in the pharmaceutical market.
TRiBECA® Knowledge is a market leader in smart business tools that help pharmaceutical, biotech and medical device companies successfully launch and commercialise products. Our tools enhance visibility and transparency, streamline processes and drive communication and collaboration across brands, management layers, business functions and countries worldwide.