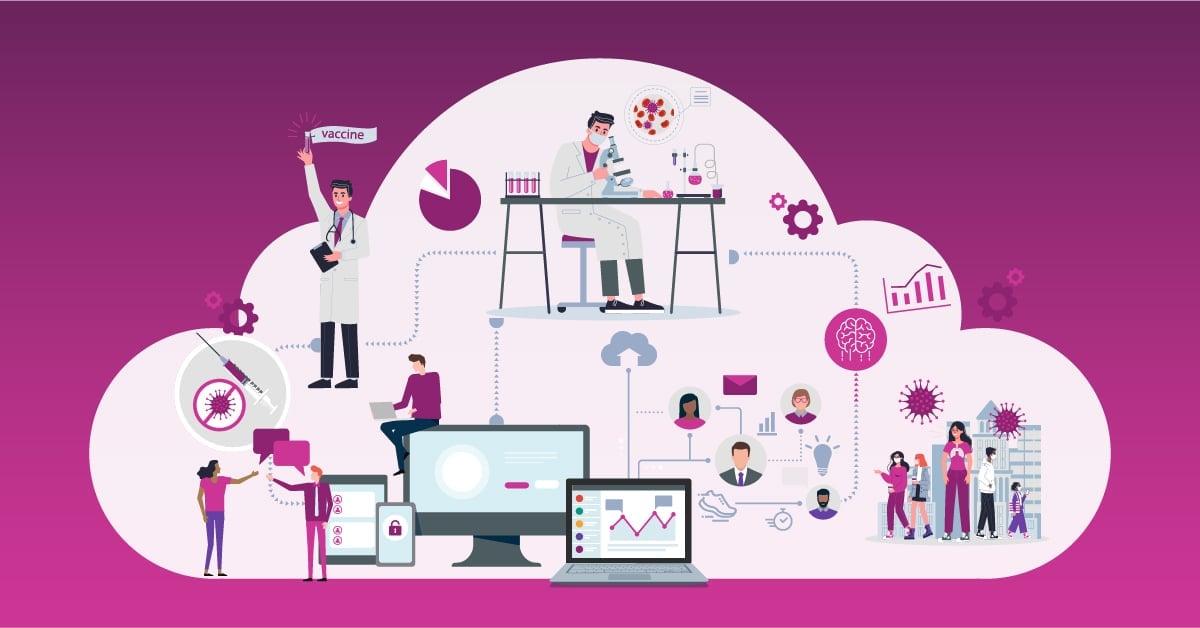 The COVID-19 pandemic is a wake-up call for the pharmaceutical industry to embed digital transformation at every level of its operations. That includes market access, tendering and pharma product launch activities.
The right digital tools can help optimise launch readiness and effectiveness, align and integrate market access planning and execution, or track market-to-market variations in tendering processes across workstreams in real time. With new iterations such as the fast-spreading Delta variant prolonging the constraints of COVID-related remote working and virtualisation, digital transformation is moving front and centre as a critical driver of more agile ways of thinking and working in pharma.
If pharma has been relatively slow in the past to embrace digitalisation, it is clear many companies are now determined to catch up. UCB, for example, has been activating new strategic plans for all of its business units over the last two to three years, with specific goals around digital transformation, chief information officer Herman De Prins told the FT's recent US Pharma and Biotech Summit.
Data is the lifeblood of digital
COVID-19 is not just a huge challenge to pharmaceutical companies but an unprecedented opportunity to reconsider business models and address a complex operating environment through leaner, more flexible, more creative and cost-effective practices. One thing the industry does have on its side is a wealth of data.
That in itself is challenging. As Anne Heatherington, head of the Data Science Institute at Takeda, told the FT Summit, the vast data streams emanating from digital tools in clinical trials are only really useful in terms of the analytics that turn those data into meaningful insights. Once acquired, though, those insights will better position companies to generate value propositions tailored to a fast-changing, digitally informed landscape.
Pfizer highlights digitisation initiatives
Linda Fonseca, chief digital and technology officer, outlined a whole raft of initiatives she is helming to accelerate digital business transformation at Pfizer. Fonseca believes not only that COVID-19 has accelerated digital transformation by five years, but that "the new ways of working are here to stay". Pfizer wants to enhance the full scope of its operations through digitalisation, including R&D, manufacturing, commercialisation and the supply chain, while improving health outcomes, customer relations and customer experiences.
This digitalisation roadmap includes augmented reality tools to diagnose and repair laboratory and manufacturing equipment at a distance; equipping commercial teams to engage virtually with healthcare providers; virtual monitoring in a global vaccine trial with 46,000 participants; creating a scientific cloud for rapid searching of compound libraries; and leveraging artificial intelligence so scientists can analyse clinical-trial data every few hours, rather than weeks after the event.
Threading through all of this, Fonseca emphasised, is a "hyper-focus" on the customer and outcomes. Pfizer sees accelerating digital as a means to drive horizontal thinking and alignment with patient experiences, promote agile ways of working (not just sequential but parallel), foreground "what matters most", and "radically simplify" processes.
Digital transformation is not without caveats
There are some caveats around digital transformation, such as ensuring that attention to quality, monitoring and governance does not falter with virtualisation. In the clinical-trial context, noted John Reites, chief executive officer at THREAD, there are already stirrings of digital customisation to enhance patient autonomy, above and beyond collecting more objective patient-reported outcomes in real time from participants' own homes.
With innovations in pharmaceutical technology such as comparator dashboards, for example, trial participants can monitor their progress in relation to others of a similar age or demographic. These insights could inform useful course corrections as trials unfold. On the other hand, Reites observed, innovators need to be careful not to encourage any patient activity outside the study protocol that might introduce bias.
There is also some wariness about over-promising on the financial benefits of digital transformation in pharma. As Heatherington stressed, with decentralised trials "there is an outlay" for implementing new technologies, setting up data platforms and hiring data analysts. It will probably take two to three years before companies start to see cost savings, she added.
But transformation does not have to mean throwing out the baby with the bathwater. Today's clinical trials are looking for the sweet spot between decentralisation and retaining aspects of traditional study models (e.g. site visits), in line with administrative imperatives and patient needs. In the same way, other areas of pharmaceutical industry activity are transitioning to hybrid approaches that accentuate choice and flexibility, while leveraging the best of the new and the old.
In Pfizer's commercial operations, for example, a 'digital rep advisor' now collates and processes all the different customer touchpoints on a daily basis, then feeds recommended next steps to team iPads. While sales and marketing personnel can still decide what they want to talk to customers about, they are going into these conversations far better-informed and -prepared, Fonseca noted.
Pharma needs to keep pace with healthcare
The message is clear, then: digital transformation in pharma is gaining pace, fast-forwarded by COVID. It is for companies to ensure their transformative efforts serve clearly articulated and meaningful objectives, geared not just to commercial gain but to better medicines, enhanced patient experiences and sustainable healthcare systems.
As Dr Niven Narain, co-founder, president and chief executive officer of BERG Health, observed, this is about keeping pace with what is happening in healthcare systems. Payers are "really understanding and embracing the importance of digital health", Narain commented. They want to determine not just who has access to health interventions, but how and when these interventions are delivered.
That puts the onus on pharma to integrate and analyse multiple datasets that will help identify cost-effective, holistic health outcomes – for example, by highlighting more viable drug targets, "failing faster", or running clinical trials more effectively. Ultimately, decentralising marginal assets or activities means pharma can "move forward within a funnel of efficiency", Narain commented.
That applies across the board. Having the right digital tools to align and streamline more targeted, responsive market access, tendering or pharma product launch activities will help to ensure your digital transformation strategy keeps you not just in the loop but at the cutting edge of an increasingly competitive market.
TRIBECA® Knowledge's transformative digital tools
TRiBECA® Knowledge is a market leader in smart business tools that help pharmaceutical companies successfully launch and commercialise products. Our tools enhance visibility and transparency, streamline processes and drive communication and collaboration across brands, management layers, business functions and countries worldwide.