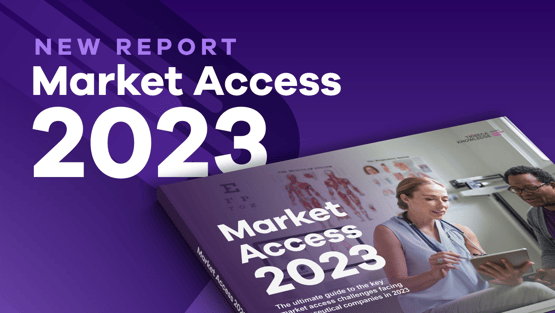 In our new report Market Access 2023, we consider how a rapidly changing market access environment presents the biopharmaceutical industry with complex challenges to launch success and enhanced patient outcomes. Without mastering these challenges, companies risk seeing potentially transformative products, nurtured through years of effort and investment, left stranded in limbo between market entry and uptake.
Drug development programmes are not just about optimising regulatory approvals and launch prospects. They also need to address and overcome the market access (MA) barriers that increasingly stand between innovation and uptake. While a whole range of factors may contribute to a compelling market access proposition, new and premium-priced medicines are unlikely to make much headway without first convincing payers and health technology assessors that they offer genuine value for money.
In the European Union, for example, the latest WAIT (Waiting to Access Innovative Therapies) Indicator Survey by IQVIA and the European Federation of Pharmaceutical Industries and Associations found that the average time between marketing authorisation and availability in the EU27 countries was 511 days as of 1 January 2022, versus 504 days in 2020. 'Availability' was classed as a centrally approved medicine appearing on a country's public reimbursement list. Across all 39 European countries included in the survey, patient-access inequities ranged from around 133 days on average in Germany to more than 899 days in Romania.
This guide and accompanying checklist take a deep dive into today's MA landscape and the many hurdles companies face in their efforts to convert regulatory milestones into launch excellence. We discuss how recent trends in drug development, such as the paradigm shift towards speciality drugs with multiple indications built on common disease pathways, have raised market access stakes for companies and healthcare systems alike.
Emerging therapeutic breakthroughs for large-population health challenges, such as Alzheimer's disease or obesity, could raise those stakes even higher. Payers are already wrestling with how to incorporate cutting-edge treatments with high upfront costs and novel therapeutic profiles, such as cell and gene therapies, into conventional treatment pathways and budget planning. At the same time, we weigh up the costs of thwarted, delayed or sub-optimal market access to industry, healthcare systems and patients.
With so much at stake, everything to do with pharmaceutical product development and launches must now be informed and conditioned by market access planning and execution. Moreover, with so many different functionalities contributing to an evolving product proposition, it is imperative that the right technology is in place to ensure functional, organisational or national borders are no hindrance to integrated MA strategies, or to tracking market access developments from one point of entry to the next.
Global market access, national variations
Today's market access programmes are typically geared to an expanding global marketplace, one complicated by continuing divergence in MA criteria from one country, region or healthcare channel to the next. Key emerging markets, such as China, may present an increasingly innovation-friendly face. However, these attractions are likely to be qualified by tighter MA criteria in areas such as pricing and reimbursement, particularly as more comprehensive healthcare coverage puts budgets under pressure.
In this context, we highlight the critical importance of generating solidly evidenced yet adaptable product value across multiple parameters, then communicating it through multiple channels to a range of stakeholders with distinct needs and priorities. Central to these efforts is the growing dominance of payers and health technology assessors as gatekeepers to market access.
This requires a sophisticated understanding of how product value is understood by these gatekeepers, as well as concerted efforts to promote a more holistic conception of value as a determinant of market access, beyond relatively narrow assessments of cost-effectiveness or budget impact. We also ask how far harmonisation has advanced in health technology assessment procedures. The jury is still out on how much this convergence is really improving the MA environment for industry, rather than further disseminating more stringent and inflexible forms of value assessment.
Healthcare demand and costs continue to rise, exacerbated by trends such as population aging, changing lifestyles or health expectations, and the lingering impact of the COVID-19 pandemic on healthcare capacity and resources. That means market access considerations such as value, positioning, differentiation, usability and impact on treatment pathways need to be built into drug-development programmes at the earliest opportunity. They must then be carefully maintained and refined as a product moves towards market entry and beyond.
Companies must also make that sure that all of the various internal or external functionalities involved in planning and executing market access, regardless of geography or corporate hierarchy, are fully aware and aligned in their responses to existing or likely MA influences. Those might be clinical-trial outcomes, new legislation, regulatory changes, budgetary pressures, pricing and reimbursement decisions, reference pricing, tendering policies, contracting arrangements, health-technology assessment, competitor activity or media coverage, including social-media interaction.
Aligning MA activities in real time
After considering today's MA landscape and how it may evolve in the years to come, our Market Access 2023 guide explains how digital transformation and agile launch software can help companies track, manage and align their MA activities in real-time. The right platform will ensure full visibility of market access developments across brands as well as functional and geographical silos, while enabling key stakeholders to plan and report on MA activities using a single integrated tool.
By streamlining and automating data collection and reporting, a well-designed market access tool will also save your MA team both time and effort. That way, key team members can focus on strategy and execution, rather than squandering their abilities on routine administrative tasks. With these digital capabilities, a fully integrated yet adaptable MA programme, and optimal use of your team's talent, you will be a good position to turn market access into someone else's problem and your own competitive asset.